This is a complete travel guide to Sagoo Waterfall Marhi, Himachal Pradesh. In this guide, we've mentioned location, things to do, best time to visit, how to reach, nearby attractions, travel tips, facts, map, etc helpful information.
Sagoo Waterfall Marhi Location
| | |
| --- | --- |
| Location | Near Marhi, Himachal Pradesh |
| Entry Fee | N/A |
| Opening Hours | 24 Hours |
| Best Time to Visit | Jan, Feb, Mar, Apr, May, Jun, Jul, Aug, Sep, Oct, Nov, Dec |
| Nearest Town | Marhi (1 km) |
| Nearest Railway Station | Joginder Nagar Railway Station (168 km) |
| Nearest Airport | Bhuntar Airport (70 km) |
| Famous For | Sightseeing, Birdwatching, Trekking, Photography |
| Nearby Attractions | Nehru Kund, Hadimba Temple, Marhi, Rohtang Pass, etc. |
The Sagoo Waterfall may be found at Marhi along the Rohtang-Manali Highway in Himachal Pradesh. Walking takes around 30 minutes from Marhi to reach Sagoo Waterfalls. Sagu waterfall is also known as the frozen waterfall.
Manali is not very far from this fall. It is only 21 km away from Sagoo Falls. In Manali, it is the shortest and simplest track. The final stretch of the track is a little bit challenging.
Interesting Facts about Sagoo Waterfall Marhi
One of the numerous cascades in the Himachal region is the Sagoo Waterfall, sometimes referred to as the renowned Frozen Waterfall.
The path starts off close to Marhi and leads deep into the Pir Panjal mountain.
This area is graced by breathtaking vistas of the snow-capped Himalayas, lush meadows, and numerous trees.
Suggested – Visit Bangoru Waterfall, one of Himachal Pradesh's less-known tourist attractions.
Things to do at Sagoo Waterfall Marhi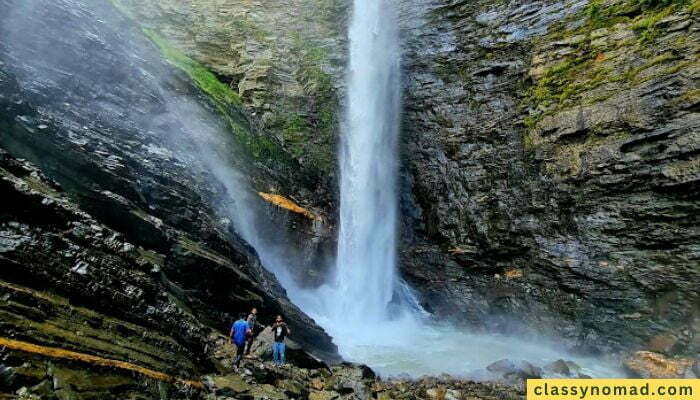 1. Sightseeing
This area receives a good amount of snow during the winter, which turns the entire area white. It is simply breathtaking to observe.
2. Birdwatching
This area is one of the best for bird viewing because it is home to numerous birds. If you are a photographer, this location will give you an excellent opportunity to showcase your skills to the world.
3. Trekking
The last part of the trek to this cascade is the only part that is a little challenging. This waterfall is worth visiting.
4. Photography
The vicinity of the waterfall is a famous location for nature photography. To capture the moments, bring souvenirs and photos with you.
How to Reach Sagoo Waterfall Marhi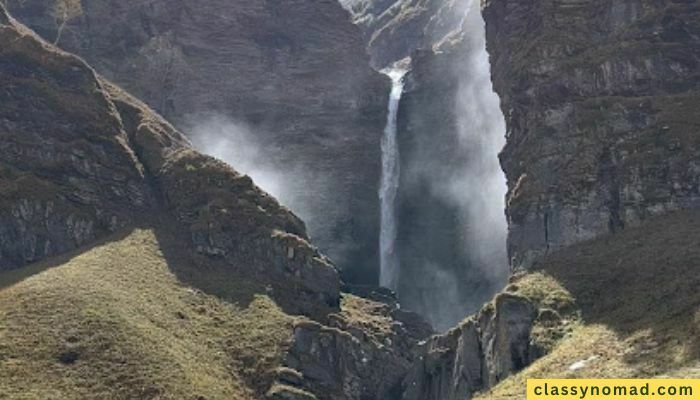 1. By Road
On the highway that is used to access Rohtang Pass, there is a waterfall. The majority of the buses make stops here so that the tourists may get their fill of food and drink. Manali is around 21 kilometers distant from this location. You may also use a cab or a private vehicle.
2. By Rail
There is no nearby railway station to the waterfall. One has to reach Manali, the closest railhead to Manali is Joginder Nagar Railway Station. After reaching Manali you can take a taxi or cab to reach the waterfalls.
3. By Air
Sagoo Waterfall is 70 km kilometers from the closest airport, which is Bhuntar Airport. The excellent thing is that the airport is easily accessible from both Kullu and Manali. You can take a taxi or cab from the airport to get to Manali or Kullu.
Tourist places around Sagoo Waterfall Marhi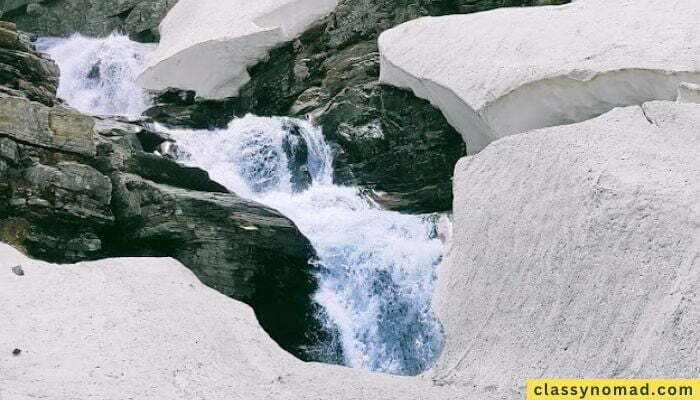 1. Nehru Kund
Nehru Kund, named for our nation's former prime minister Pandit Jawahar Lal Nehru because he loved the location, is a natural spring that locals believe has therapeutic properties.
2. Vashisht Hot Water Springs
The settlement of Vashisht's hot springs is a great site to stop by. These springs are cool sulfur water springs that are heated in nature in the chilly Manali weather, and the village is the location where it is reported that Rishi Vashisht used to meditate.
3. Hadimba Temple
The footsteps of the Goddess Hadimba are kept in the Hadimba Temple, a four-story pagoda. The temple is a beautiful architectural creation, and the stone sculptures are evidence of the talented artisans who created them.
4. Marhi
20 kilometers from Manali, Marhi is a lesser-known tourist resort noted for its water activities. This beautiful snowy paradise serves as an adventure destination during the winter months when the Rohtang Pass shuts down due to snowfall and most tourists are diverted to Marhi to partake in water sports.
5. Gulaba
Gulaba is a great alternative if you wish to escape the crowded landscape of Rohtang Pass. There are several adventurous activities available here, and it is only 6 kilometers from Rohtang Pass, making it simpler to visit this idyllic Manali village.
6. Rohtang Pass
India values Rohtang Pass strategically because of its stunning natural surroundings. From the Pass, one can see the Chandra River, glaciers, peaks, and Lahaul Valley.
8. Jogini Waterfalls
A stream from Jogini Falls flows down to join the Beas River in the Kullu Valley beneath. It is a Shakti Peeth, a site of female power, and is considered sacred to the local deity Jogini.
9. Patalsu Peak
The most stunning grassland in Himachal is found along the Patalsu Trek, which is also home to an endless carpet of verdant meadows. One of the simplest treks to begin your experience in the breathtaking Himalayas is this one. The Solang valley, which it goes through, has stunning vistas.
Best time to Visit Sagoo Waterfall, Himachal Pradesh
Near Rohtang Pass, Sagoo waterfall is situated halfway down the Manali–Leh highway. The majority of visitors visit Sagoo waterfalls including its stunning green meadows and picturesque splendor while Rohtang Pass is shut for the winter season. The location is open for visits all year round.
Travel Tips
This hike requires decent walking boots, however, it is simpler to use a nice pair of trainers.
For your valuables and devices, it's a smart way to carry a waterproof backpack during a monsoon. You might get wet. 
Take the water with you at all times.
Whether you opt to bring your personal reusable bottle or purchase some. Although you might fill your bottle of water with fresh water from the falls, it is not suggested that you drink it.
The local water could potentially illen you if you're not acclimated to it.
That is unless you have a cleaning agent like purifying powder.
On the way, there are numerous cafés and vendors. Even some munchies are available.
If you purchase single-use bottles or bring food in bags and wrappers, be sure to bring your garbage with you so you can get rid of it afterward.
Conclusion
One way to experience the Himalayas is by visiting this waterfall, which is surrounded by deodar forests, undulating hills, and alpine valleys. By inhaling clean air, taking mineral water baths, and admiring the picturesque mountain waterfall found in Marhi, you will be in touch with Mother Nature.
FAQs on Sagoo Waterfall Himachal Pradesh
1. Where is Sagoo Waterfall situated?
Sagoo Waterfall is located midway between Manali and Rohtang La on the Manali-Leh Highway, near Marhi, Himachal Pradesh.
2. What is the best time to visit Sagoo Waterfall?
All seasons are suitable for seeing the waterfall.
3. What are the nearby tourist attractions to Sagoo Waterfalls?
Hadimba temple, Nehru Kund, Jogini Waterfalls, Rohtang Pass, Gulaba, Marhi, Vashisht Hot Water Springs, and Patalsu Peak are some of the nearby tourist attractions.
4. What is the distance between Shimla and Sagoo waterfalls?
The distance is 259 km which takes around 7 hr 30 mins from Shimla to the Sagoo waterfalls.
Map of Sagoo Waterfalls, Himachal Pradesh