This is a complete travel guide to Drung Waterfall Gulmarg, Kashmir. In this guide, we've mentioned location, things to do, best time to visit, how to reach, nearby attractions, map, travel tips, facts, etc useful information that will make your journey much easier.
Drung Waterfalls Gulmarg Overview
| | |
| --- | --- |
| Location | Near Gulmarg, Baramulla District, J&K |
| Entry Fee | N/A |
| Opening Hour | 24 Hours |
| Best Time to Visit | Winter Season |
| Nearest Town | Gulmarg (14 km) |
| Nearest Railway Station | Srinagar Railway Station (52 km) |
| Nearest Airport | Srinagar Airport (48 km) |
| Famous For | Sightseeing, Picnic, Visiting the Ancient Temple |
| Nearby Attractions | Apharwat Peak, Tangmarg, Alpather Lake, Baba Reshi Shrine, Ningle Nallah, etc. |
Drung Waterfall is a very well-liked tourist destination in the Tangmarg near Gulmarg, Baramulla district of the Indian Union Territory of Jammu and Kashmir. It is a gushing waterfall surrounded by gorgeous mountains, because of the bitterly cold winters, it entirely freezes over.
A must-see attraction in the region is this ice waterfall. When every surface is covered with snow during the winter, Drung Fall manifests itself in its purest form.
The unusually low temperature causes the cascade to freeze. Tourists and locals travel to Drung waterfall in the winter months to see the frozen fang, which is close to the Ferozpora Nalla bridge.
Suggested – Visit Ganderbal Waterfall, one of the hidden waterfalls in J&K.
Interesting facts about Drung Waterfall Gulmarg
An unforgettable scene is created when the water from the beautiful glaciers combines with the flowing waterfall.
A pleasant summer afternoon can be spent here admiring the waterfalls, lakes, streams, and surrounding vegetation while also exploring the caverns.
The scene is even more beautiful in the winter as everything is frozen and the waterfall forms icicles as it cascades down.
Even the lakes and rivers freeze, but they are still passable, and if you're courageous enough, you may enjoy the ice-cold water!
People can purchase tea and refreshments from nearby shops while visitors take in the gorgeous surroundings.
Things to do at Drung Waterfall Gulmarg
1. Sightseeing
If you go in the summertime, you may enjoy the peace and quiet while admiring the breathtaking views of the waterfalls, the lake, the rivers, and all of the surrounding vegetation.
2. Picnic
You can take a day trip picnic to Drung waterfalls because there aren't many places to stay or camp there. In the frozen snow, people like to sled down the slopes.
3. Visit the Ancient Temple
A Hindu temple that is close to the waterfalls and is thought to have been constructed by the Pandavas. You can visit there to show respect and to take in the historic architecture.
How to Reach Drung Waterfalls Gulmarg
1. By Road
The Drung falls is roughly 50 kilometers from Srinagar, the state's capital, and can be accessed by automobile or cab in 1 hour and 30 minutes.
2. By Rail
 The nearest railway station is Srinagar Railway station which is 52 km away from the waterfalls. Once you reach you can book a cab or taxi to take you to the waterfalls.
3. By Air
The nearest airport to the waterfalls is Srinagar Airport. You can take a cab or taxi from the airport to the falls.
Tourist Places around Drung Waterfall Gulmarg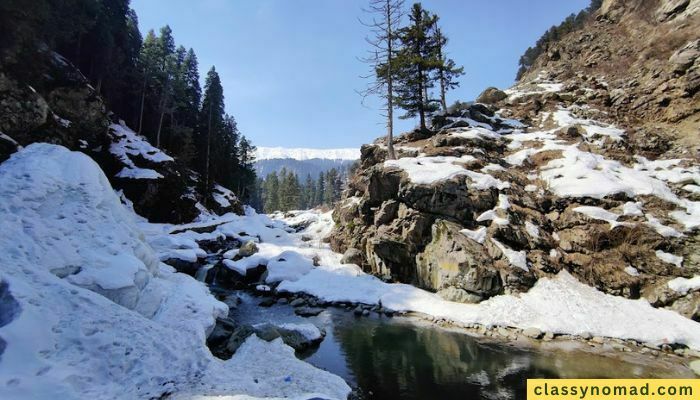 1. Apharwat Peak
The best skiing is available to all skiers at Apharwat Peak, which is very well-liked by ski aficionados. This summit, which is close to Alpather Lake, provides the most breathtaking views both in the summer and the winter. Anyone who is not engaged in skiing can take a sled trip to the summit.
2. Tangmarg
Tangmarg, which is 39 kilometers from Srinagar, serves as an important stopping point for all buses and taxis traveling to Gulmarg. There are four lanes on the all-weather, motorable road that leads to Tangmarg.
Since one cannot drive one's personal car to the top during the winter, Tangmarg serves as a starting point for taxi rides to Gulmarg.
3. Alpather Lake
Alpather Lake, also known as Al-Pather Lake, is 13 kilometers from Gulmarg and has an elevation of 3840 meters. This lake, which has a triangle shape, freezes during the winter and remains frozen through early May.
Visiting this lake in the summer and the winter is a must-having experience. This lake, which is surrounded by a sizable meadow, merely captivates you as well as your senses.
4. Baba Reshi Shrine
Five kilometers away from Gulmarg is the Baba Reshi Shrine, which honors the Muslim saint Baba Reshi, a well-known courtier of Kashmir's King Zain-ul-Abidin.
The shrine is renowned for its elaborately carved woodwork and lovely grounds and was constructed in the Mughal and Persian styles.
5. Ningle Nallah
Ten kilometers away from Gulmarg, Ningle Nallah is renowned for its natural beauty, verdant environs in the summer, and snow-covered meadows in the winter. During the summer, the creek pumps water via Alpather Lake and is conveniently accessible by road.
6. Khilanmarg
A little valley called Khilanmarg is located roughly 6 kilometers from Gulmarg. This valley is the epitome of beauty in the summertime since it is adorned by exotic flowers and serves as a ski resort in the winter. One can also enjoy breathtaking panoramas of Wular Lake from Khilanmarg.
7. Nagin Valley
2012 witnessed the opening of Nagin Valley, also known as Nageen Valley, to the public after being kept secret from visitors for 22 years.
The breathtaking Nagin Valley is a part of the Gulmarg Biosphere Reserve, which is known for its luxuriant alpine meadows, blue pines, and fauna, which includes musk deer, leopards, red foxes, and hanguls.
8. Pattan
The region of Baramulla contains Pattan, which is renowned for its valley that epitomizes beauty. The best reason to travel to Pattan is to simply enjoy the stunning surroundings. Also, close by is Sankara Girishwara Temple.
Best Time to Visit Drung Waterfall Gulmarg
Winter is the ideal time to see Drung Waterfall. The greatest months in winter are Jan and Feb. These months are when the waterfall is totally frozen.
Travel Tips
Put on dependable hiking boots or shoes.
Keep to established pathways. Keep to the platforms and viewing decks.
Pay heed to the guidelines and warning notices put close to waterfalls.
Never climb up a waterfall or around one.
Never plunge into splash pools or off waterfalls.
Carefully monitor both kids and pets.
Never attempt to shoot pictures from the peak of a fall or play in the river or stream above one.
For the trip home, pack a change of clothing. Your attire—particularly your shoes and socks—may become soaked.
While trekking to a waterfall, it is common to have to traverse streams and small, wet regions.
Conclusion
Many visitors who come here with their loved ones enjoy recognizing themselves among the hills. The waterfalls and the roaring stream provide a mesmerizing vista and ambiance. It connects with your sensations, heart, mind, and spirit as you dip your toes into the chilly water in the summer.
Map of Drung Waterfall Gulmarg