Ganderbal Waterfall is one of the less-known waterfalls in Jammu & Kasmir. This travel guide helps you if you are planning to go to Ganderbal Waterfall.
Ganderbal Waterfall Overview
| | |
| --- | --- |
| Location | Ganderbal District, Jammu & Kashmir |
| Entry Fee | Free |
| Timing | 24 hours |
| Best Time to Visit | Apr, May, Jun, Jul, Aug, Set, Oct |
| Nearest Bus Stop | Ganderbal Bus Stop (1.3 Km) |
| Nearest Railway Station | Srinagar Railway Station (30 km) |
| Nearest Airport | Sheikh Ul Alam International Airport (29 km) |
| Famous For | Natural beauty, Adventure |
| Nearby Attractions | Thajiwas Glacier, Kheer Bhawani Temple, Gadsar Lake, Nilagrad, etc. |
Ganderbal Waterfall is situated in the Ganderbal district, which is a mind-blowing place for tourists from all around the world. This waterfall is more akin to a spillway that flows from a high altitude into a river.
This place is not only beautiful, but if you want to spend some time relaxing and taking a break, you can also visit here. The people living near this waterfall often visit it on weekends with their family and friends to spend some time and enjoy their day.
If you love peaceful places, then this is the best place in the Ganderbal district that you should definitely visit.
Interesting Facts about Ganderbal Waterfall
The best way to spend the weekends here is with close friends and family.
Many locals who live close to the waterfall come here to relax and spend time with their families.
If you go to the local tourist attractions, you can also be tempted by the waterfall.
The proximity of the waterfall to several major cities is advantageous for tourists.
The breathtaking view will have you smitten with this home.
Things to do at Ganderbal Waterfall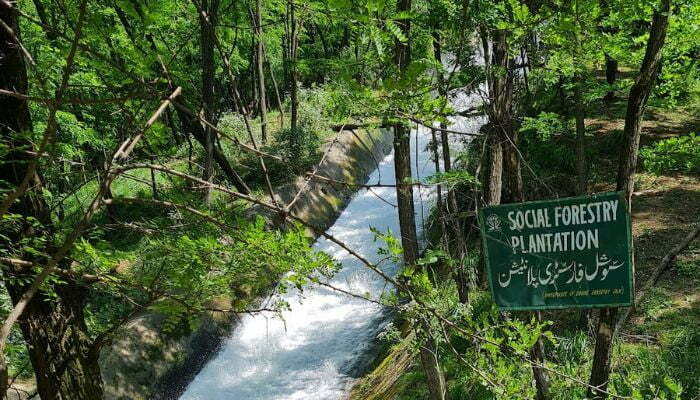 1. Hiking
As you are probably aware, cascades make excellent trekking destinations because they include everything you might need. The same is true of the Hebbe waterfall. This area is perfect for people who like strolling and exploring new places.
2. Bathing
You might feel more alive since the water is so cold. Your relatives and friends are invited to try taking a shower there and having fun if you intend on visiting this spot. One must visit this place for a great experience.
3. Picnic
This area is great for family trips and spending quality time together. The waterfall is a popular destination for locals to decompress and spend time with their families and friends. By organizing a picnic, you may enjoy some time here with your family and friends.
How to Reach Ganderbal Waterfall
1. By Road
This place is nearest to the capital of Kashmir, which is Srinagar. All you have to do is book a cab or bus from the city, and it will take you directly to the Ganderbal waterfalls. The waterfall is only 34 minutes away from the city.
2. By Train
The nearest railway station to the waterfall is Srinagar, the capital of Kashmir. Just book a train ticket to get there, and there you will be. From the railway station, you'll find a lot of ways of getting there. Get a cab or a bus, whatever suits you, and by that means, reach your destination.
3. By Air
Sheikh Ul Alam International Airport which is located in Shrinagar is closest to the fall. It is only 29 km far from the waterfall. Book a flight ticket and reach your destination for a wonderful experience.
Nearby Tourist Attractions to Ganderbal Waterfall
1. Thajiwas Glacier
Thajiwas Glacier is a beautiful silvery image set against verdant meadows and a brilliant blue sky at a height of 9,186 feet. You may go on a quarter-day trek to many cascades near this glacier in the summer.
The trek will be difficult and the route lengthy, but the breathtaking scenery will make up for it. Have a snowball battle on the road with the neighborhood Gujjar youngsters, who are nearly always up for something!
2. Kheer Bhawani Temple
Tourists frequently stop by the Kheer Bhawani Shrine out of fascination since it is positioned in the center of a freshwater source. The local god is offered milk and kheer by devotees. All tourists find it appealing, but the Kashmiri Pashtuns in the region hold it in particular esteem.
The temple's construction is straightforward but exquisitely made from slick grey stones. According to rumors, the waterways turned black as a portent of an impending disaster.
3. Gadsar Lake
Sonmarg provides a break from city life with its rustic and pastoral atmosphere. Gadsar Lake, which is perpetually iced at an elevation of 16,400 feet, is a good place to do some life-force work.
From Gadsar Lake, you may take in incredible views of the freezing Satsar as well as Baltan Waters, which are encircled by snow-covered hillsides and adorned with alpine wildflowers.
4. Nilagrad
The powerful Indus River and a red mountainous river merge in Nilagrad, which is close to Sonmarg. The local Baltic population thinks the waters have healing properties.
People congregate on the Colorado River's banks throughout the weekend to take a plunge in its therapeutic waters. It's a wonderful location for a picnic because there are lovely meadows nearby.
5. Zojila Pass
The Himalayas have a high-altitude crossing called Zoji La. It is located in the Kashmiri districts of Kargil and Ladakh in the Indian Union. The pass in the Drass connects the Indus Valley to the east with the Drass, Suru, and Azad Kashmir basins to the northeast and west, respectively.
National Highway #1 runs through the pass from Srinagar to Leh in the west Himalayan range. All-weather Zoji-la Tunnel is being built by late 2022 to lessen periodic traffic closures brought on by blizzard conditions.
Best Time to Visit Ganderbal Waterfall
The area is encircled by lovely trees. The lovely location is ideal for bonfires, fishing, and bonsai. The ideal time to view the Ganderbal waterfall is from April through October. Many people from Ganderbal and Srinagar come here for a swim on the north side of the waterfall.
Travel Tips That You Should Know
Don't bring any pricey or valuable items with you since they might be lost while you are admiring the waterfall.
Pack a sufficient change of clothes if you plan to take a bath at the waterfall.
Carrying a first aid kit is advised because accidents might happen when visiting these places.
Hand sanitizer is the most important thing to bring.
Traveling to places like waterfalls in athletic shoes will surely make the experience more enjoyable.
Conclusion – Ganderbal Waterfall
By reading the whole article, it is quite clear that visiting this place will be a great experience. If you are planning on visiting the "heaven" of India, which is Kashmir, then this place will be one of the best places that you'll visit here. The scenic view and experience at this waterfall are mesmerizing; you must visit this place with your family and friends.
Check out some Hidden Waterfalls of the Nation
FAQs on Ganderbal Waterfall
1. Where is Ganderbal Waterfall located?
One of the hidden or less known waterfalls, Ganderbal Waterfall is located in the Ganderbal District of Jammu & Kashmir.
2. What is the best time for visiting Ganderbal Waterfalls?
April, May, June, July, August, September, and October are the best months to visit Ganderbal Waterfalls.
3. What is the nearest town to the Ganderbal Waterfall?
Srinagar is the nearest town to the Ganderbal Waterfall. It is 18 km from the location of the Ganderbal Waterfall.
4. What are the tourist attractions around the Ganderbal Waterfall?
Thajiwas Glacier, Kheer Bhawani Temple, Gadsar Lake, Nilagrad, Zojila Pass, Wular Lake, Dachigam National Park are some of the best places to visit around Ganderbal Waterfall.
5. How far is Ganderbal Waterfall from Srinagar?
Ganderbal Waterfall is 18 km away from Srinagar.
Distance from Major Cities/Towns
| | |
| --- | --- |
| Srinagar | 18 km |
| Sumbal | 16 km |
| Sopore | 49 km |
| Pulwama | 49 km |
| Kupwara | 82 km |
| Sonamarg | 60 km |
| Anantnag | 77 km |
| Dras | 123 km |
| Jammu | 267 km |
| Delhi | 812 km |
Map of Ganderbal Waterfall