This is a complete travel guide to Hogenakkal Waterfall, Tamil Nadu. Here, you will find travel information like location, things to do, best time to visit, how to reach, nearby attractions, travel tips, facts, etc which will help you to make your travel easier.
Hogenakkal Waterfalls Overview
| | |
| --- | --- |
| Location | Hogenakkal village, Dharmapuri, Tamil Nadu |
| Entry Fee | N/A |
| Opening Hour | 24 Hours |
| Best Time to Visit | Oct, Nov, Dec, Jan, Feb |
| Nearest Town | Pennagaram (15 km) |
| Nearest Railway Station | Dharmapuri Railway Station (47 km) |
| Nearest Airport | Bangalore International Airport (158 km) |
| Famous For | Boat Ride, Swimming, Oil Massage, Adventure |
| Nearby Attractions | Mettur Dam, Melagiri Hills, Pennagaram Village, Krishnagiri Dam, etc. |
Hogenakkal waterfall is one of the tourist attrcations in the Indian state of Tamil Nadu which is located 46 kilometres from Dharmapuri near the Karnataka border. The Cauvery (Kaveri) Torrent enters Tamil Nadu near Hogenakkal as a large river that appears to be a natural fall.
Hogenakkal actually means "Smoky Rocks" in Kannada. The smoke-like strength of the water looks to be emanating from the rocks as a river gushes onto a rock below.
Are you planning to visit Hogenakkal waterfall to enjoy nature's beautiful creation and take a small break from the busy daily life? If you do, here is useful information that will help you in planning your trip.
Suggested – Visit Jalagamparai Waterfalls, one of Tamil Nadu's most beautiful tourist attractions.
Interesting Facts about Hogenakkal Waterfall
At Hogenakkal, the water extends in all directions, making it feasible to cruise on locally constructed dinghies. 
Hogenakkal falls gives guests a unique atmosphere and relaxation.
Additionally, one may take a relaxing bath in the falls.
 Locals' oil massages are a unique experience at Hogenakkal Waterfalls.
Things to do at Hogenakkal Waterfall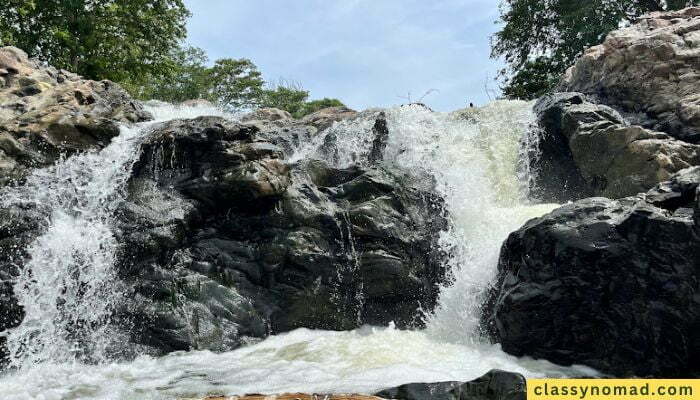 1. Oil Massage
Hogenakkal Waterfall is quite famous for its oil massage which is relaxing for the mind and body.
2. Boat Ride
The boat ride at Hogenakkal Waterfalls is very adventurous and incites an adrenaline rush. The price of boating at Hogenakkal Waterfall ranges from INR 500 to INR 800.
3. Swimming
You can take a dip in the water of Hogenakkal Waterfalls. Various tourists opt for swimming in the falls as it gives a feeling of relaxation to the brain and soul of an individual.
Suggested – Go to Pykara Waterfalls to enjoy an adventurous trip in Tamil Nadu.
How to Reach Hogenakkal Waterfall
1. By Road
You may take a bus from the Dharmapuri Bus Stand, which is located 46.2 kilometres from Hogenakkal through the Dharmapuri-Hogenakkal route. The Salem Bus Stand, which is located 88.5 kilometres from Hogenakkal is also alternative route.
2. By Rail
The closest railway station to Hogenakkal, located around 47 kilometres away, is Dharmapuri. From there, you may take a train or use a cab service.
3. By Air
The Bangalore International Airport, which is 158 kilometres away from Hogenakkal, is the closest airport. To get to the location from there, use a bus or cab.
Tourist Places near Hogenakkal Waterfall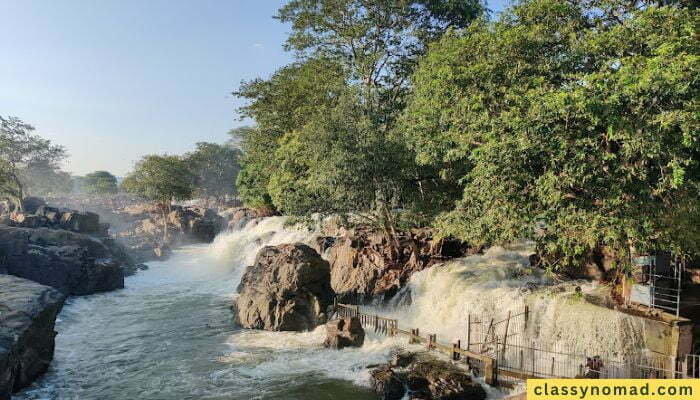 1. Mettur Dam
One of the biggest dams ever constructed in India is the Mettur Dam. The Mettur Dam, which was erected over the Kaveri River, is significant strategically.
Exactly 2,71,000 acres of large agricultural area are irrigated by Mettur Dam, which also serves as the main water source for about 12 districts in Tamil Nadu.
Visitors swarm to this location to take in the spectacular surroundings and enjoy themselves with friends and family.
2. Melagiri Hills
The stunning Melagiri Hills were formed where the Eastern and Western Ghats met. The Melagiri Hills are a stunning area surrounded by thick trees and a hazy sky.
Also, it requires a short hike to get to the Melagiri Hills, making it a wonderful opportunity for thrill-seekers. If you're lucky, you could even have a chance to see the one-horned antelope, which inhabits these valleys. 
3. Pennagaram Village
The peaceful village of Pennagaram is tucked away in the centre of the Dharmapuri district. The terracotta figures and buildings, known as Aiyanars give the hamlet a vibrant atmosphere.
Pennagaram Village is charming thanks to these enormous buildings in a variety of colours, and each year, travellers come here to take in the peace and quiet and to shop at the monthly fair where a variety of handcrafted wooden and terracotta goods are offered.
4. Krishnagiri Dam
The Krishnagiri Dam provides the majority of the water for the districts of Krishnagiri and Dharmapuri. It's the ideal place to spend time with loved ones because of the lush hills in the distance and the sparkling Kaveri River below.
You may also go trekking and travel from the dam itself to Yelagiri Hills while taking in the breathtaking sights of the area.
5 Kaveri River
Tamil Nadu and Kerala are two Indian states through which the Kaveri River flows. A little portion of this river passes into Puducherry. One of the greatest rivers in the world flows through this region which combines with the Bay of Bengal in the Tamil Nadu location known as Poompuhar.
6. Chenraya Perumal Temple
One of the best temples in the entire state of Tamil Nadu is the Chenraya Perumal Temple. The Dharmapuri district is the place where it is situated.
The locals do believe that this temple is situated in the old capital of the Adhiyamans, the ancient kings of Tagodur. It is really an oval-shaped fort. It is stated that this temple was built by the Raysala rulers and the Krishna Deva Raya.
Best Time to Hogenakkal Waterfall
The winter months, from October to February, are the best time to visit Hogenakkal Falls since the typical temperature is between 18 and 21 degrees Celsius, making it comfortable to spend your stay at Hogenakkal and explore the nearby areas.
Travel Tips
Swimming should be done very cautiously at Hogenakkal Waterfall. Children and older persons should receive special attention.
Take a spare pair of clothes along as at the waterfall, the outfit that you will wear has a chance of getting drained with water.
Wear suitable footwear as at the waterfall people are very prone to slipping and injuring themselves.
There are various vendors around selling snacks and fish, so you can taste them according to your cravings and appetite.
Boating should be done after wearing life-saving jackets as the waterfall is a risky area.
Conclusion
The Hogenakkal Falls are a renowned tourist attraction in the picturesque village of Hogenakkal, which is located in the Dharmapuri district. You are invited to enter Hogenakkal Falls if you wish to spend some quiet time in the midst of nature, away from the hustle and bustle of city life.
FAQs on Hogenakkal Waterfall
1. Where is Hogenakkal Falls situated?
The Hogenakkal Falls are located in the Hogenakkal village in Tamil Nadu's Dharmapuri District.
2. What is the best time to visit Hogenakkal Falls?
The duration between October to February is the best suitable time to visit Hogenakkal Falls.
3. What are the nearby tourist attractions to Hogenakkal Falls?
The nearby tourist attractions to Hogenakkal falls are Mettur Dam, Melagiri Hills, Pennagaram Village, Krishnagiri Dam, Kaveri River and Chenraya Perumal Temple.
4. What is the distance between Chennai and Hogenakkal Falls?
The distance between Chennai to Hogenakkal Falls is 350 Km.
Map of Hogenakkal Waterfall