This is a complete travel guide to Tegheria Waterfall Guwahati, Assam. In this guide, we've mentioned location, things to do, best time to visit, how to reach, travel tips, facts, etc useful information.
Tegheria Waterfall Guwahati Overview
| | |
| --- | --- |
| Location | Near Guwahati, Assam |
| Entry Fee | N/A |
| Opening Hours | 24 Hours |
| Best Time to Visit | Oct, Nov, Dec, Jan, Feb, Mar |
| Nearest Town | Guwahati |
| Nearest Railway Station | Kamrup Khetri Railway Station (10 km) |
| Nearest Airport | Lokpriya Gopinath Bordoloi International Airport (70 km) |
| Famous For | Picnic, Photography, Adventure |
| Nearby Attractions | Umananda Temple, Kamakhya Temple, Assam State Museum, Nehru Park, Guwahati Planetarium, etc. |
Guwahati is one of the top locations to spend a few days in the midst of nature. The state of Assam, also known as the "Gateway of the North East," attracts tourists and nature lovers.
Every kind of traveler can find something in Guwahati due to the wide range of tourist attractions. Among them, Tegheria Waterfalls is such a breathtaking location that attracts attention and wins hearts.
Tegheria Waterfall is one of the less-known waterfalls near Guwahati in the northeast state of India, Assam. Although it is not very popular, it offers wonderful views of nature.
Suggested – Kakochang Waterfall is one of the very beautiful waterfalls near Golaghat in Assam.
Interesting Facts about Tegheria Waterfall Guwahati
For nature lovers and photographers, the breathtaking and magnificent Tegheria Falls, encircled by steep rocky cliffs and thick vegetation, is a delight.
The waterfalls are a well-liked tourist destination in the area because of their beauty as well as the nearby picnic areas.
Despite the waterfall's modest size and width, the numerous little streams cascading down the rocks provide a breathtaking scene and a beautiful pool underneath the fall.
 To reach the waterfall, one needs to make a short hike over large boulders and other rocks, which adds to the overall enjoyment as well as the thrill to the trip.
Things to do at Tegheria Waterfall Guwahati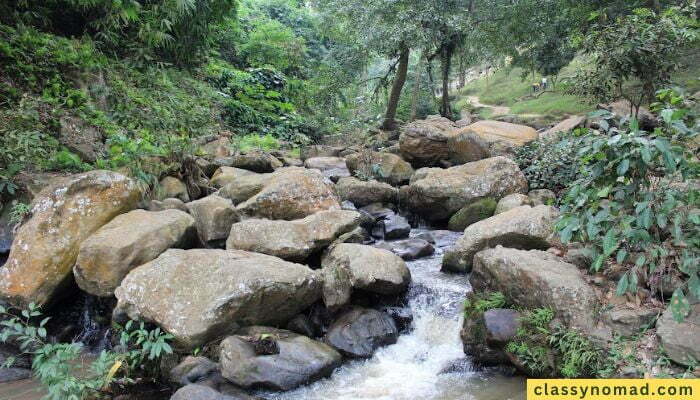 1. Take a Cool Dip
Enjoy the fall by taking a refreshing dip in the cool water that is sloshing down the hills. 
2. Take a picnic
Tegheria waterfalls is a great location for picnics and are recognized for its stunning vistas. It is a wonderful area to lay your mat and take in the beauty of the huge and lush green countryside that is home to huge oak trees, dense shrubbery, and a shallow trickle of water.
3. Enjoy the Treats
There are a few stalls near the Tegheria picnic area where guests can purchase tea and snacks. After touring the entire area, you can either bring your equipment and utensils to prepare your supper outside or you may buy various snacks from such stalls.
4. Photography
During sunsets, the stunning view of the greenery is amplified, luring photographers and anybody else visiting the location to grab their cameras and snap pictures of the breathtaking vista.
Suggested – Explore Panimur Waterfalls, a wonderful waterfall which is situated in the Dima Hasao district of Assam.
How to Reach Tegheria Waterfalls Guwahati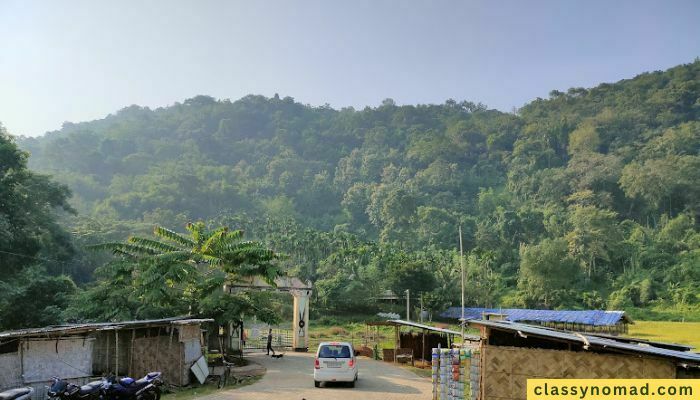 1. By Road
Tegheria Waterfall is 50 kilometers from Guwahati and can be reached in 1 hour and 50 minutes by bus or private vehicle.
2. By Rail
Kamrup Khetri is the nearest railway station to the waterfalls which is almost 10 km from the location of the waterfalls. Once you reach there you can take a cab or taxi to reach the falls. 
3. By Air
Lokpriya Gopinath Bordoloi International Airport is the nearest airport to the falls which is around 70 km from the waterfalls. You can take a cab or taxi to reach the waterfalls. 
Tourist Places Near Tegheria Waterfalls Guwahati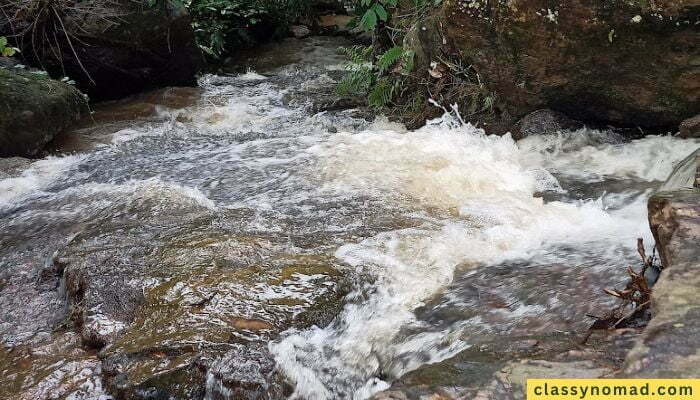 1. Umananda Temple
On Peacock Island, which is in the midst of the Brahmaputra River, there is a Shiva shrine called the Umananda Temple. Village boats are available all day to bring visitors to the island. The hill where the temple is located is known by the name of Bhasmacala.
2. Kamakhya Temple
One of India's most famous sanctuaries for Goddess Shakti is the Kamakhya Temple. One of the four Shakti Peethas, also. Additionally, this is among the most famous and historic locations for Tantric rituals.
3. Assam State Museum
One of the most well-known museums in North-East India, the Assam State Museum, also referred as the Assam Rajyik State Museum, provides insights into the region's rich ancient and present histories. It contains artifacts and sculptures from the fifth to the twelfth centuries.
4. Nehru Park
Nehru Park is a picturesque garden park that was created in 2000 and is named after Pandit Jawaharlal Nehru, the very first Prime Minister of India. It is situated in the center of the city of Guwahati, across from Cotton College in the Panbazar neighborhood of Guwahati.
5. Guwahati Planetarium
The Guwahati Dome on MG Road is indeed a fantastic destination for "universe connoisseurs". The main event is a special show that is displayed on a canopy overhead screen in addition to the usual Skywatching sessions. These programs are accessible in Assamese, English, and Hindi.
6. Basistha Ashram and Temple
Guru Vashishta is credited with authoring the Hindu classic Vasistha Ramayana (or Basistha). It is believed that the sage constructed this ashram and then passed away here.
7. Pobitora Wildlife Sanctuary
At the junction of the Nagaon and Kamrup Districts is the Pobitora Wildlife Sanctuary, one Assam's most significant wildlife sanctuaries. This location, which is well renowned for its One Horned Rhinoceros, must be visited by tourists! Between November and February, the weather is perfect.
8. Peacock Island
Umananda Island, also known as Peacock Island, is the tiniest river island on the planet and is located in the middle of the Brahmaputra River. The island is home to Golden Langurs, a really rare and threatened species that is extremely revered by the Himalayan people.
Best time to Visit Tegheria Waterfalls Guwahati
Many people visit this location because of the waterfall's tranquil beauty, which is surrounded by a lush forest. The vibrant birds in this area will entice nature lovers and provide you with a wide range of photographic opportunities. Due to its lush vegetation and waterfalls, Assam is at its most beautiful from October to March.
Travel Tips
Do your walking in sturdy boots or shoes.
Be sure to follow well-established paths. Stay on the observation platforms and decks.
Pay attention to any guidelines or warnings posted close to a waterfall.
Never try to scale a waterfall or maneuver around it.
Be cautious with both children and pets.
Never attempt to shoot pictures from the top of a fall or swim in the surrounding brook.
A change of clothing should be available for the trip back. Your clothing—particularly your shoes and socks—can become soaked.
When hiking to a waterfall, it is normal to have to transverse rivers and small, wet places.
Conclusion
So, if you're in Guwahati and seeking some peace and quiet from the rush and bustle of daily life, Tegheria Falls and Picnic Area should be your next destination. You can relax your thoughts by merely taking time to listen to the soothing sound of the running water, or you can gather with family or friends in the picnic area to make some priceless memories.
FAQs on Tegheria Waterfalls Guwahati
1. Where is Tegheria Waterfall situated?
It is located in Tegheria village at a distance of 59 km from Guwahati, Assam.
2. What is the best time to visit Tegheria Waterfall?
The best time is between October and March.
3. What are the tourist attractions near Tegheria Waterfalls?
Umananda Temple, Kamakhya Temple, Assam State Museum, Nehru Park, Guwahati Planetarium, Basistha Ashram and Temple, Pobitora Wildlife Sanctuary, and Peacock Island are some of the nearby tourist attractions.
4. What is the distance between Dispur and Tegheria waterfalls?
The distance between Dispur and Tegheria waterfall is 43.7 km which takes 1 hr 1 min.
Map of Tegheria Waterfalls Guwahati