This is a complete travel guide to Namblan Waterfall Kashmir. In this guide, we've mentioned location, things to do, best time to visit, how to reach, nearby attractions, travel tips, facts, maps, etc useful information.
Namblan Waterfall Kashmir Overview
| | |
| --- | --- |
| Location | Namblan Village, Rajouri, J&K |
| Entry Fee | N/A |
| Opening Hour | 24 Hours |
| Best Time to Visit | Mar, Apr, May, Jun, Jul, Aug, Sep, Oct |
| Nearest Town | Baramulla (17 km) |
| Nearest Railway Station | Baramulla Railway Station (20 km) |
| Nearest Airport | Sheikh-ul-Alam International Airport (74 km) |
| Famous For | Sightseeing, Photography, Picnics, Trekking |
| Nearby Attractions | Gulmarg, Khilanmarg, Wular Lake, Kupwara, Bangus Valley, etc. |
Namblan Waterfall is one of the very beautiful waterfalls in the Indian states of J&K. It is located about 17 kilometers from Baramulla, the main town, and is renowned for its pristine waters.
The location is on the Mundri Nallah waterway, a stream of a Jhelum River, inside a highland valley surrounded by fir and pine trees mountains, and it is part of the Narvaez (Sheeri) taluka of Baramulla.
According to the locals, the waterfall cascades into an almond-shaped pond, and its depth is measured in meters. To take a bath in the pristine water there, people from all over the town travel to the location.
Suggested – Go to Aharbal Waterfall, one of Kashmir's tourist attractions which is situated in the Kulgam district.
Interesting Facts about Namblan Waterfall Kashmir
The area is serene and ideal for fishing, walking, photography, and excursions.
It remains one of Kashmir's uncharted territories.
The route there is not a motorable road.
The majority of visitors to the area in the summer are from nearby communities who come to admire the beauty of nature.
However, it continues to be a little-known tourist destination and fell into the background of travel.
Things to do at Namblan Waterfall Kashmir
1. Sightseeing 
You can expect to find some peace and solitude amidst the glories of nature at this place because it is relatively undiscovered, as opposed to having to deal with huge tourist swarms.
2. Photography
Nature photography is a popular activity in the area of the cascade. To capture the experience, bring souvenirs and photos with you.
3. Picnic
With your family and friends, enjoy lunch while listening to the tranquil nature's sounds and the roaring streams of the Namblan waterfalls. 
4. Trekking
Beautiful locations abound throughout the world and are just waiting to be discovered and visited! Hikes to waterfalls are one of these exceptional and unforgettable experiences. You can begin hiking to get to these falls.
The journey from the village to the Namblan waterfalls will live in the memory forever. Definitely make the journey to the falls.
Suggested – Visit Drung Waterfall, one of the less-known waterfalls in J&K which is located in the Baramulla District of J&K.
How to Reach Namblan Waterfall Kashmir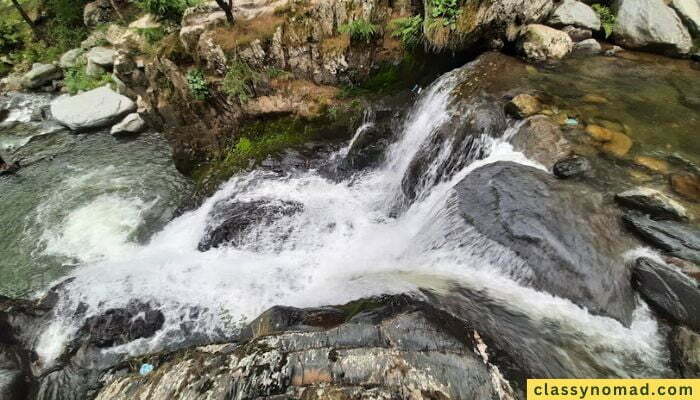 1. By Road
There are buses at the Jammu bus terminal to take you there. Both the Tourist Receiving Center Srinagar and the Lal Chowk bus stop offer buses and taxis that can take you from Srinagar to this location.
2. By Rail
The closest train station to Namblan Waterfalls is Baramulla Railway Station. Nevertheless, Jammu Tawi Railway Terminal is a significant rail hub close to Namblan Waterfall.
3. By Air
Sheikh-ul-Alam International Airport is the closest global airport. From there you can take a cab or taxi to reach the Namblan waterfalls.
Suggested – Ganderbal Waterfall is one of the less-known yet beautiful waterfalls in J&K that is worth visiting.
Tourist Places around Namblan Waterfall Kashmir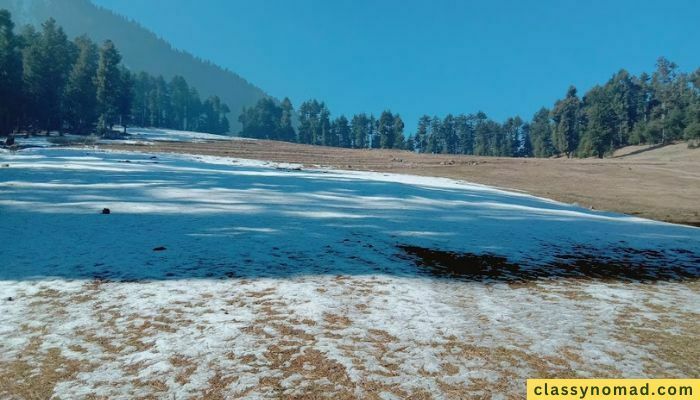 1. Gulmarg
The green golf course at Gulmarg is well-known. It is the tallest golf course in the world. The nearby locations of Khilanmarg, Acchabal, Gondola Lift, Tanmarg, and Verinarg can be visited. Another interesting place is the Gulmarg Biosphere Reserve.
2. Khilanmarg
The distance between Khilanmarg and Gulmarg is six kilometers. It offers stunning views of peaks covered in snow. It blooms with flowers in the winter. Gulmarg is 600 meters lower than Khilanmarg in elevation.
3. Wular Lake
The lake is as wide as the eye can see. Excellent sights of this lake can be had from the tops of the hills. There are tiny communities strewn over everywhere. Paddy fields are also visible nearby.
4. Baba Shukurddin Shrine
This shrine is well-known in Kashmir. It is situated atop a hill. It was built as a loving tribute to Baba Shukurddin. From the top, one can distinguish different colors in the earth below.
5. Kupwara
In the Indian region of Jammu and Kashmir, Kupwara is both a city and a designated area committee. Lolab Valley is one of the many tourist destinations in Kupwara that is significant.
6. Bangus Valley
The Bangus Valley in Kashmir is home to mystic mountain landscapes, spotless meadows, brilliant lakeshore streams, and expansive grasslands.
7. Doodhpathri
Doodhpathri epitomizes Kashmir. Doodhpathri in Kashmir is a breathtakingly beautiful emerald meadow encircled by pine trees with views of tall frost mountains.
8. Shiva Temple
Mohineshwar Shivalaya Temple is another name for this temple. In the year 1915, Mohini Bal Sisodhia constructed it. She was Maharaja Hari Singh's (the Kashmiri King's) wife. Here are the statues of Lord Shiva and Goddess Parvati.
Best Time to Visit Namblan Waterfall Kashmir
It is a year-round destination, so you can visit at any time to discover this paradise. The best time to visit is between March and October because it gets very cold there during the winter.
Travel Tips
To primarily enjoy the falls to yourself, go as earlier during the day as you want.
Consider taking a hike to the waterfalls if you feel up to it. This will improve the swim and water quality and give you more choices to determine where to stop along the way.
In order to explore the area, bring swimwear, towels, a dry bag, lotion, and walking footwear. Give yourself two hours if you like to explore the outdoors.
Food and drinks should be brought. The best way to prolong a stay and spice it up whichever you wish.
Because the region and circumstances of falls are frequently highly slick, it is always recommended to wear comfortable, stable, and grippy shoes.
Bring a bag with you to put all the extra food and supplies in.
Don't really leave trash, including paper or food scraps, adjacent to waterfalls.
When admiring the cascades, pay close attention and act responsibly.
Conclusion
People frequently return to this location because of its unrivaled elegance despite the fact that the beauty never disappoints. You must also go here with your loved ones and have an enjoyable vacation.
FAQs on Namblan Waterfall Kashmir
1. Where is Namblan Waterfall situated?
In the Indian Territory of Jammu as well as Kashmir's Rajouri District's Namblan Village, Rajouri Tehsil is where you can find the Namblan Waterfall.
2. What is the best time to visit Namblan Waterfall?
The months of March through October are ideal for travel.
3. What are the nearby tourist attractions to Namblan Waterfalls?
The nearby tourist attractions are Gulmarg, Khilanmarg, Wular lake, Baba Shukurddin Shrine, Kupwara, Bangus Valley, Doodhpathri, and Shiva temple.
4. What is the distance between Srinagar and  Namblan waterfall?
The Namblan Waterfall is 1 hr 45 mins (69.3km) away from Srinagar.
Map of Namblan Waterfall Kashmir