In this blog post, we have covered the 15 reasons to visit Kazakhstan. If you want to visit Kazakhstan but are not prepared mentally, you should definitely go through this blog post, it will definitely help you to decide something.
Many people underestimate Kazakhstan's potential. Most people were surprised when you said you were going to Kazakhstan, and to be honest. It's such a welcoming country, home to people of many different faiths and ethnicities who coexist peacefully. I've compiled a list of 15 reasons why you should visit Kazakhstan.
The residents of this area are extraordinarily warm and welcoming.
There were no negative experiences with the locals during my trip to Kazakhstan, which made me feel very welcome. People in the country are so accepting of others that the country is so multicultural with so many different religions.
 Reasons to Visit Kazakhstan in 2022
This article will help you why Kazakhstan is the best place. Here we discuss 15 Reasons to visit Kazakhstan.
1. It's Very Easy To Avoid Other Tourists
Kazakhstan is a great destination to go to if you're not a fan of crowded tourist spots. Because it is not a well-known tourist destination at all (at least not yet), you do not even need to make an effort to avoid encountering tourists there. Because it is such a large country, Kazakhstan is an excellent destination for people who enjoy spending time alone.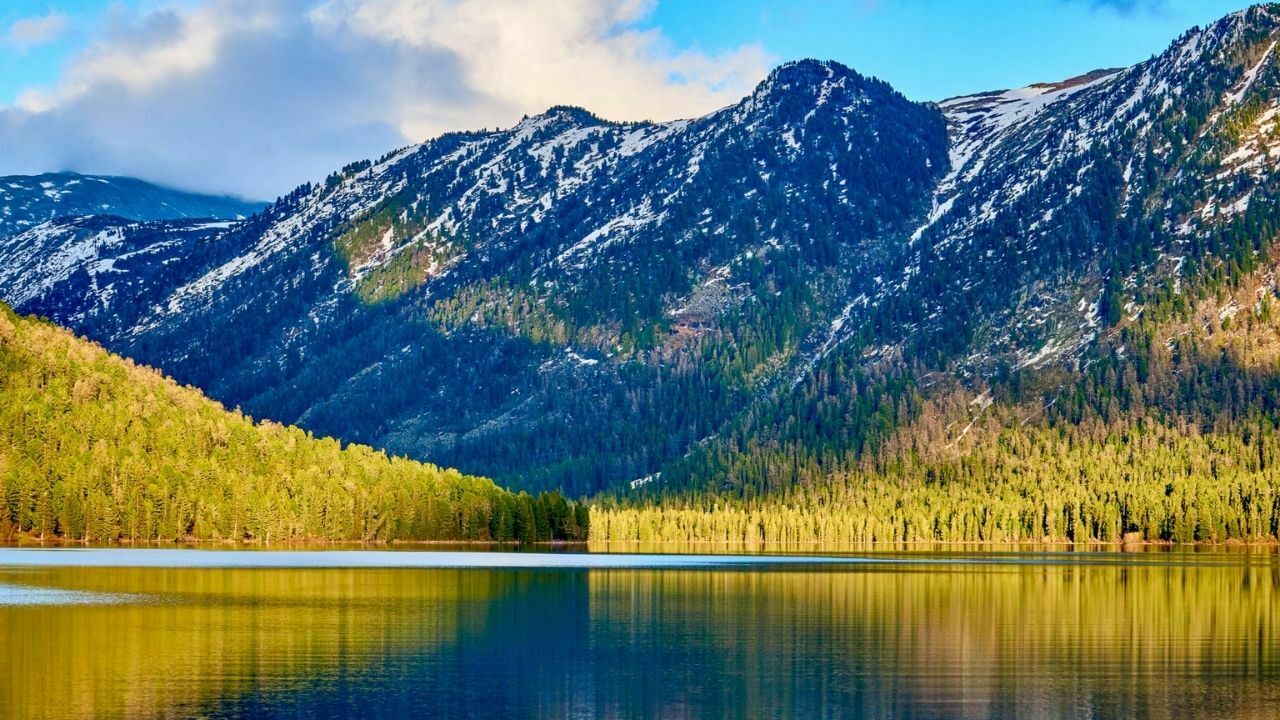 It is a pleasant change of pace to go to a well-known tourist destination and find that there are only two other people there, or sometimes even nobody else at all.
2. Kazakhstan Is a Very Multicultural Country
People from all over the world can be found in Kazakhstan. It's one of the most ethnically diverse places I've ever been to, with 126 different ethnicities represented within its borders. Because of Kazakhstan's tragic history, the two largest ethnic groups are Kazakh and Russian. 
Kazakhstan was formerly known as the Kazakh Soviet Socialist Republic from 1936 to 1991, one of the Soviet Union's transcontinental constituent republics. In the 1930s, as many as 40% of the Kazakh population died of starvation or fled the country. Nearly all of the ethnic groups that had ever lived in Russian-controlled territory ended up in Kazakhstan.
3. The Landscape In Kazakhstan Is Incredible
You could be forgiven for thinking that Kazakhstan is nothing more than a land of steppes and deserts. There is a lot more to Kazakhstan's landscape than just this, despite the fact that this describes a significant portion of the country. One of the primaries draws for me in terms of Kazakhstan's travel destination was the country's breathtaking natural scenery. 
Imagine breathtaking landscapes such as mountains, lakes, deserts, canyons, and the vast steppe. It's incredible how much of Kazakhstan's natural beauty has been preserved. Kazakhstan is one of the best places to visit in Asia.
4. You Can Explore State National Natural Park Altyn-Emel
Many interesting places can be found in the Altyn-Emel National Park which covers an area of 4600 square kilometres. Archaeological, historical, and cultural sights, as well as rare animals and plants, can be found in the area. It is one of the best national parks to visit in Kazakhstan.
Altyn-Emel National Park is known for its Aktau and Katutau hills, Terekty petroglyphs, the 31 Besshatyr burial mounds, the Turanga forests, and the world-famous Singing Dune, all of which are among the park's many highlights. With wind and dry conditions, the Singing Dune sounds like an aeroplane engine, hence its name!
5. The Beautiful Kolsai Lakes
Kazakhstan has a lot more to offer than deserts and steppes. There are many beautiful lakes to visit as well! One example is Kaindy Lake, which can be seen in the article's featured image. Kolsai Lakes is located close to Kaindy Lake. There are three alpine lakes in the Kolsai Lakes system, which are located at altitudes between 1700 and 2650 metres.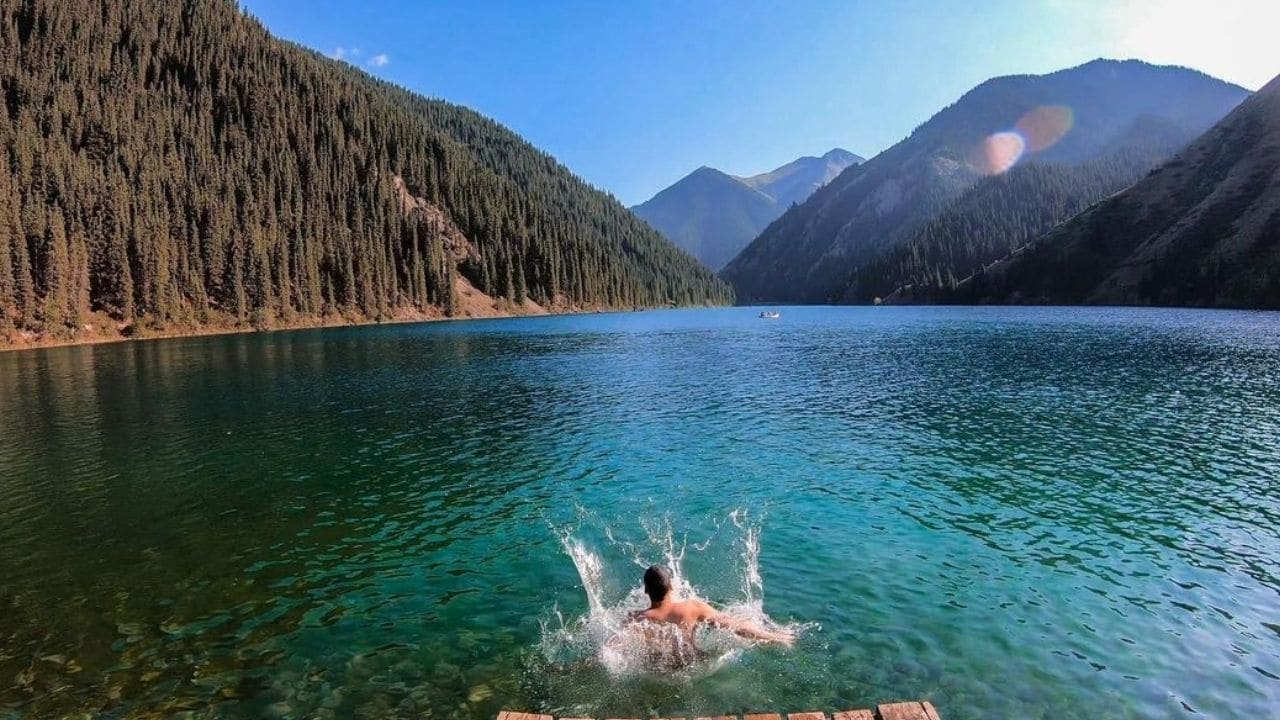 The lakes are surrounded by cliffs and mountains with snowy peaks and wooded slopes in the Northern Tien Shan Mountains. The three lakes are almost on the same line. The first lake (pictured above) is at an elevation of 1700 metres, while the second lake (2500 metres above sea level) can only be reached by climbing higher in the mountains.
6. Let's Not Forget Big Almaty Lake and Other Easy Day Trips From Almaty
Even if you're not a fan of hiking or long drives, you can still enjoy Kazakhstan's natural beauty. Almaty is a great starting point for day trips. For example, it takes only 30-40 minutes to drive to Big Almaty Lake from the heart of Almaty.
The Big Almaty Gorge contains the lake, which is situated at a height of 2500 metres. This lake's unique feature is its ever-changing hue, which can be attributed to both the weather and the season. There are two distinct shades of green in the lake: emerald and turquoise. It's made even more spectacular by the dense forest that surrounds it.
7. It's a Perfect Destination For Adventurers
Kazakhstan is an ideal travel destination for those who seek excitement and new experiences. Take a trip in your car, explore the natural areas that have not been developed, hike up mountains, and swim in lakes. Discover incredible mausoleums and underground mosques to worship in. 
You can go skiing in the mountains, or you can learn about the nomads who live in yurts on the steppe. Kazakhstan is the perfect destination for you if you are an intrepid traveller who values incredible natural scenery and off-the-beaten-path experiences.
8. Shop Till You Drop At Khan Shatyr Entertainment Center
Almaty and Astana are ideal shopping destinations if you enjoy window shopping. Khan Shatyr Entertainment Center is a popular shopping destination in Kazakhstan. Khan Shatyr is a massive, 150-meter-high, 140.000-square-meter transparent tent. 
A food court, a movie theatre, a minigolf course, a park, and an indoor beach resort can all be found inside the tent. The beach is, in fact, there! Sand and tropical plants fill Sky Beach, an exclusive aquatic park. Summer never ends at Khan Shatyr because the beach's microclimate resembles that of a natural marine climate.
9. Kazakhstan Is The Ninth Biggest Country In The World
Yes, Kazakhstan is big! However, did you know that it ranks as the ninth largest country in the entire world? In addition to that, during the time of the Soviet Union, it was the republic that held the position of second largest. 
It should not come as a surprise that Kazakhstan possesses such a varied topography. It is one of the great places to visit in Kazakhstan. Although this isn't necessarily a reason to travel to a country, there is a sense of familiarity that comes with it.
10. Kazakhstan Is The Richest Country In Central Asia
Kazakhstan is the most developed of the five Central Asian countries in terms of economic development. In the span of two decades, the country has gone from a lower-middle-income to an upper-middle-income economy.
This is largely due to the country's abundance of oil. You'll be amazed at how developed and modern everything is in the cities. Almaty and Astana are also home to a sizable ex-pat population. In addition, there are trendy restaurants and high-quality hotels.
11. The Big Cities Offer Great Ho(s)tels and Restaurants
As a result of Kazakhstan's diverse population, there is an abundance of food cultures to sample! A wide variety of foods from around the world were available to us while we were there. The best part was that it didn't cost much at all.
Hotels, hostels, and even Airbnb can be found in both Astana and Almaty. Guesthouses and similar establishments can be found in the more remote towns. The hostels and guest houses we stayed at were all clean and well-maintained.
12. You Can Also Get Local Food
If you want to eat local food in Kazakhstan, you can do that. More specifically, you probably don't even have a choice if you're travelling in towns and places outside of cities. But it's easy to find restaurants in cities that serve food from the area. Almaty's Green Market is another thing you could do. This is a large traditional market with two levels.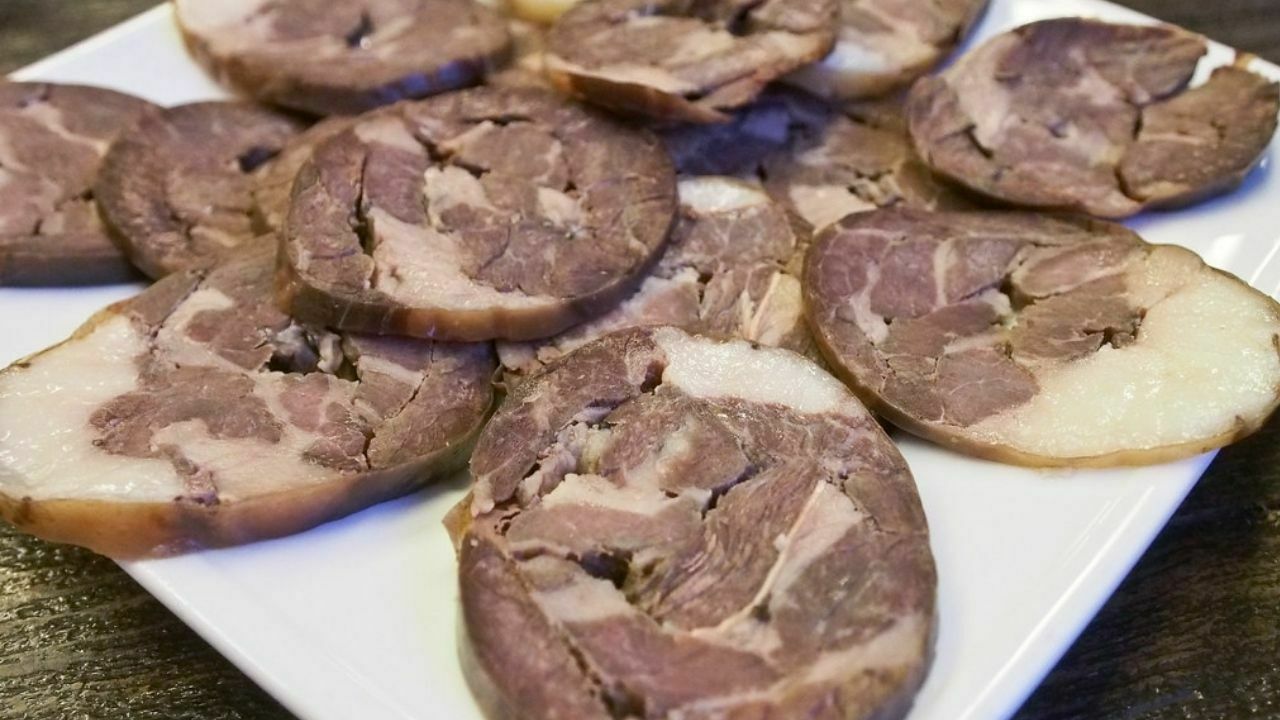 You'll finally feel like you're in Central Asia when you go to this market, where you can look at all the different goods. You can find nuts, spices, fish, and meat at the different stands. But also fermented mare's milk and camel's milk, or, if you prefer, freshly squeezed pomegranate juice.
13. It's Easy To Travel Around Kazakhstan
It is not difficult at all to travel throughout Kazakhstan, particularly between the major cities. The railway system in Kazakhstan is very good, and the country's primary cities are all very well connected to one another.
Because the roads in remote areas can be quite rough, it is absolutely necessary to have a vehicle that can handle four-wheel drive if you plan on driving there. If you are not familiar with operating a four-wheel-drive vehicle, I strongly suggest hiring a driver.
14. Kazakhstan Is An Reasonably priced Country For Budget Travellers
Kazakhstan is an excellent destination for budget travellers, in addition to being an excellent destination for intrepid travellers. In spite of the size of the country, moving around from one location to another does not require a significant financial investment. In the majority of cities, there is also an abundant selection of available places to stay, including hostels.
A bed in a shared dormitory will run you between 4 and 10 Euros per night, while a double room will run you between 6 and 12 Euros. There are fewer options available in the smaller towns, but the majority of locations that are in close proximity to a tourist attraction provide guesthouses with nightly rates that are approximately 5 euros. Additionally, going out to eat is not very expensive.
15. Go To The Most Important Pilgrimage Site In Kazakhstan: Mausoleum of Khoja Ahmed Yasawi
Your trip to the Mausoleum of Khoja Ahmed Yasawi in Turkistan was certainly one of the most memorable parts of your journey through Kazakhstan. It is the most significant pilgrimage site in Kazakhstan as well as the greatest architectural monument in the country. Timur constructed the mausoleum in the late 14th century, and it was dedicated to the first great Turkic Muslim holy man, Kozha Akhmed Yasawi.
Timur also built the mausoleum. In spite of the fact that Timor did not live to see this building through to its completion, the mosaic work that was done on it is still among the most stunning that you will see anywhere.
Conclusion
Our conversation regarding Interesting Reasons to visit Kazakhstan comes to an end here. Kazakhstan is quickly becoming one of the most popular tourist destinations in all of Asia. A great number of individuals fail to recognise Kazakhstan's untapped potential. We have gone over 15 compelling arguments in favour of your travelling to Kazakhstan.
When people come to the area, they will discover that the locals are very kind and willing to assist them in any way they can. If you are planning a vacation, Kazakhstan should definitely be on your list of places to visit.