Are you looking for a beautiful waterfall in Ratnagiri where you can spend your quality time? Then, Sawatsada Waterfall Chiplun is a waterfall that needs your attention.
Sawatsada Waterfall Chiplun Overview
| | |
| --- | --- |
| Location | Chiplun, Ratnagiri, Maharashtra |
| Entry Fee | N/A |
| Best Time to Visit | Monsoon Season |
| Nearest Town | Chiplun |
| Nearest Bus Stop | Chiplun Bus Depot |
| Nearest Railway Station | Chiplun Railway Station |
| Nearest Airport | Ratnagiri Airport |
| Famous For | Greenery, Picnic, trekking |
| Nearby Attractions | Vashishti River, Marleshwar Temple, Guhagar Beach, Gowalkot fort |
Sawatsada Fall is a monsoonal waterfall in the vicinity of Chiplun, in the Ratnagiri region of Maharashtra, India. It is located 4 kilometers from Chiplun Bus Depot and 4 km from Parshuram Monastery. It is among Chiplun's popular tourist destinations. It's a thrill to explore the numerous hidden beauties in Maharashtra's Ratnagiri area.
Its unique and untamed beauty, which ranges from a gorgeous beach to lush forests, captures the emotions and makes a wonderful film. Among the less popular destinations in this area is Sawatsada Waterfall, a stunning natural marvel that should be included in every trip to Chiplun. The Mumbai-Chiplun route offers a great view of this enormous waterfall.
Suggested – Have you heard about Ananthagiri Falls? If you aren't, you are missing one of the best tourist attractions of the nation.
History of Sawatsada Waterfall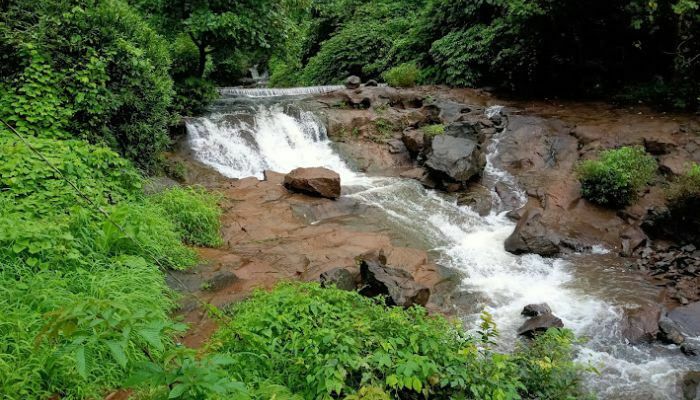 There once was a wonderful monarch who had multiple wives, despite the fact that they coexisted peacefully and supported the monarch in Kokan's vast evergreen forest. The three princesses were all beautiful, but one stood out as being very attractive and having a kind attitude. Some other monarchs were envious of her since the king secretly liked her more.
The three of them recently took a dip in the water basin that feeds a sizable waterfall. It is located at the summit of the Sawatsada waterfall. The other two monarchs, in the meantime, made the decision to push the attractive queen into the large waterfall. Her cries had mixed with the sound of the waterfall there as well.
Suggested – Check out Gandahati Falls which is also one of the most popular waterfalls among tourists.
Interesting facts about Sawatsada Waterfall
This waterfall is near Pune, which makes this place accessible to people.
This place has a history of jealousy, which makes this place weird.
People often visit this place with their families and friends.
One can do several outdoor activities while visiting this place.
Things to do at Sawatsada Waterfall
1. Bathing
If you know how to swim, then you can try bathing in the waterfall, which will make you feel alive.
2. Trekking
Being a trekking person, you can enjoy trekking at this place. There are several hilly areas in the region which might make you happy.
3. Leisure Time
If you are visiting this place with your family and friends, then you might spend a wonderful day with them. This place can be as peaceful as you want, and if you want to have fun, then this place is also quite nice.
Suggested – Read the Bogatha Waterfall (one of the most beautiful waterfalls) travel guide if you want to go there.
How to Reach Sawatsada Waterfall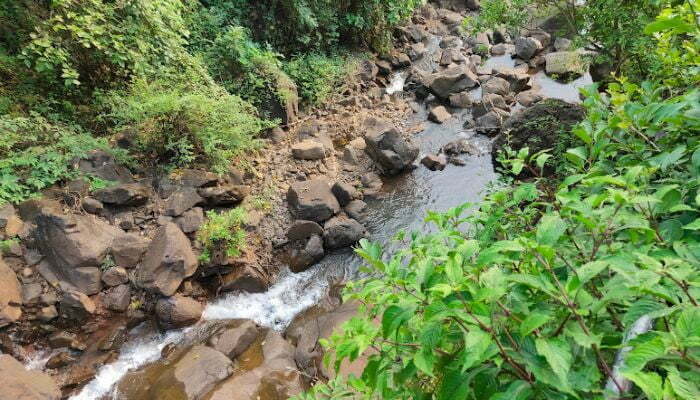 1. By Road
As the waterfall is in Chiplun, you just have to book a bus or cab to get there. If you want to travel in your own vehicle, then by that means you can also visit the waterfall.
This waterfall is amazing and traveling via road will let you explore several things or places that come on the way. This is a good place for tourists, and visiting it will be your best decision ever.
2. By Train
The nearest railway station to the waterfall is Chiplun railway station. All you need to do is book a train ticket to Chiplun, and here you'll be enjoying all the beauty and embracing of this city.
Traveling via train is a whole different experience as you'll be able to meet a lot of new people who have different stories to tell. Some of them might tell you about how beautiful the waterfall is or about the city of Chiplun.
3. By Air
If you have a tight schedule yet want to spend some time with your family and friends in a peaceful place, then you must visit Chiplun. Ratnagiri Airport is the closest airport to the Sawatsada fall which is nearly 85 km from the waterfall.
There are more than 10 cities with airports that can connect you to Ratnagiri. Some of the cities, such as Mumbai, Hyderabad, Vasco Da Gama, Delhi, etc., have direct flights to Ratnagiri. You can get a cab or bus outside the airport which will take you to the waterfall.
Nearby Tourist Attractions to Sawatsada Waterfall
1. Vashishti River
The sight of another of the bigger streams in the Konkan is stunning. Many people are left in awe as they sparkle in the early morning sunshine, and the majority stay in hotels, choosing rooms specifically for the riverside view.
2. Marleshwar Temple
In Marleshwar, Maharashtra, the Dhareshwar waterfall's flowing waters surround Lord Shiva's mandir, the Marleshwar Monastery. It is a historic Shiva shrine in Chiplun that was constructed within a cave.
Reaching the holy shrine means ascending 520 steps, so be prepared to work out. The hike is complemented by lovely surroundings. You will be mesmerized by the serenity and majesty of the Bav Basin, the enormous hills, and the sight of the ghats.
3. Guhagar Beach
One of the finest beachfront in the Konkan area, Guhagar Beach is known for its spotless expanse of white sediment. An hour's drive separates Guhagar, a municipality in the Ratnagiri region of Maharashtra, from Chiplun, a historic settlement famous for its mangoes as well as coconuts.
People who enjoy tranquil beaches that allow them to peacefully sit and take a break go picnicking at Guhagar beach.
4. Temple of Lord Parashurama
The Parashuram shrine in Chiplun, which is 300+ years old and still in operation, is devoted to the sixth iteration of the Hindu god and has the most flawless fusion of Muslim and Hindu classical architecture.
Three idols are housed in the temple, which is enclosed by stone walls. Another shrine created for Devi Renuka, Parashuram's mother, is located beyond the temple. According to mythology, this location's Bandganga lake was formed when Parashuram discharged five needles into the ground.
5. Gowalkot Fort
The little island of Gowalkot is located 10 kilometers from Chiplun and is encircled by the Vashishti river. There is a castle that was built in 1690 that provides hikers with a nice experience and gives breathtaking panoramas of the waterway and the surrounding region from the top.
Best Time to Visit Sawatsada Waterfall
Between April and June, while Chiplun experiences a tropical environment with hot, muggy summers, temperatures can reach 37°C. Torrential rains occur from June through September during the rainy season. Nevertheless, Chiplun looks even more regal and gorgeous this season.
The greatest time to go is now since the showers show off Chiplun's genuine splendor. The Sawatsada waterfall is likewise only visible at this time of year. Winters are mild and comfortable, with temperatures averaging around 10 ° C.
Travel Tips That You Should Keep in Mind
While traveling to places like waterfalls, you must keep a first aid box for emergencies.
You must wear shoes instead of slippers, sandals, or heels because you might cover a lot of distance by walking.
If you are taking children with you, kindly make sure to maintain a distance between the water and them. It might be dangerous.
Conclusion – Sawatsada Waterfall, Chiplun
The Sawatsada waterfall, which is beside the Parashuram temple, should definitely be visited by you if you want to take a short rest from hustle and bustle of life. Its nearly white color, undulating noise, and gushing sight make it a cameraman's and environmental lovers' dream.
Spending more time in Sawatsada guarantees you have a fantastic time and feel reinvigorated on your holiday, although you might have to scale back on your visits to just a few additional locations.
Watch Video of Sawatsada Waterfall, Chiplun
Map of Sawatsada Waterfall