Have you heard about Gokak Falls Karnataka? It is one of the best tourist spots in the Belgaum (Belagavi) district that will definitely blow your mind.
Gokak Falls Karnataka Overview
| | |
| --- | --- |
| Location | Belgaum, Karnataka |
| Entry Fee | N/A |
| Best Time to Visit | Jul, Aug, Sep |
| Nearest Town | Gokak |
| Nearest Bus Stop | Gokak Bus Stand |
| Nearest Railway Station | Ghataprabha Railway Station |
| Nearest Airport | Belgaum Airport |
| Famous For | Picnic, Trekking, Natural beauty |
| Nearby Attractions | Belgaum Fort, Kapileshwar Temple, Khade Bazaar, Rakaskop Dam |
Gokak Falls is renowned for its stunningly tumultuous waters that pour over boulders as well as down to a 52-meter (170-foot) drop. A 170-meter-long, dangling rope crossing has been created over this enormous waterfall so that people may stroll directly above it and experience the breeze generated by the river. The distance between the falls and Belgaum city is 60 kilometres.
The Goki River in the area is where Gokak Falls takes its name. The cascade is 52 metres high and originates from the Ghataprabha stream, which travels a long way before joining the Gokak rocky zone.
The falls, which plunge into the Gokak basin, collide with the valley and form a funnel at its apex. Gokak Falls shares characteristics with Niagara Falls in the United States, other than the salinity of the river and its 177-meter breadth.
Interesting Facts about Gokak Waterfall
The waterfall is awesome and looks magnificent to everyone who visits here.
Gokak is a significant historic location. In 1853, it was discovered. The cascade is really significant.
There is a hydroelectric plant that is set up in the Gokak waterfalls.
This place is best for enjoying your weekends with family and friends.
People living near the waterfall often visit this place for enjoyment and to have fun with their friends and family.
Things to do at Gokak Falls Karnataka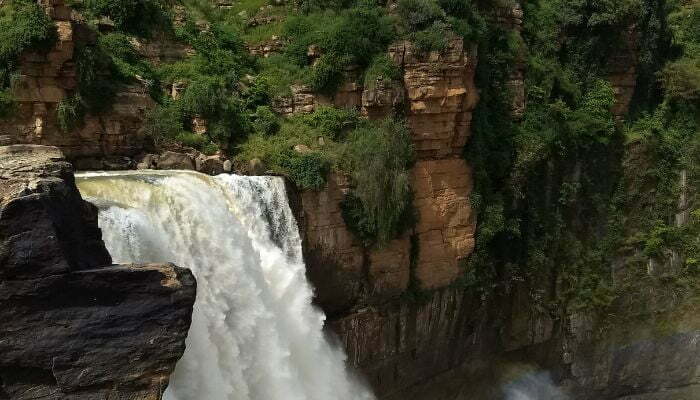 1. Trekking
As you know, waterfalls are the best place for trekking, as they provide everything that you need for the activity. The same goes for the Gokak waterfall. This place is best suited for trekking lovers and people who love to explore new things.
2. Bathing
The water here is quite cold, which can make you feel alive. If you are planning to visit this place, family and friends can give it a try to bathe and enjoy every moment.
3. Picinc
This place is the best destination for family picnics and spending time with your family. People living near this area often visit the waterfall to have some calmness and to enjoy it with their family and friends.
How to Reach Gokak Falls Karnataka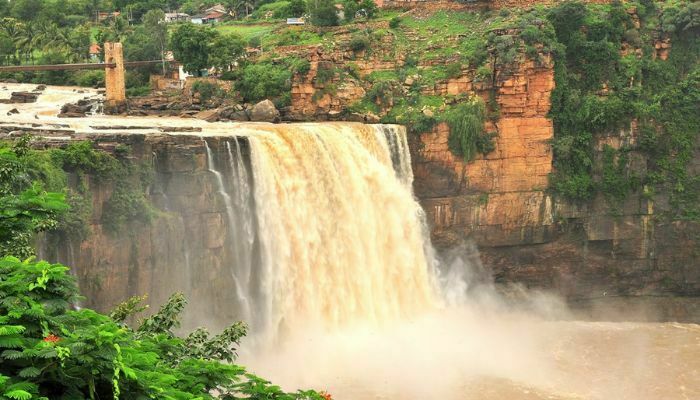 1. By Road
The waterfall is just 6 km away from Gokak town; all you need to do is book a cab or taxi for yourself, and just by travelling for around 15 to 20 minutes, you'll reach this place.
2. By Train
The nearest station to the waterfall is Ghataprabha railway station, which is 7-8 kilometres away. All you need to do is book a ticket to Ghataprabha station; from here, you will be able to find several vehicles that lead you to the waterfall.
3. By Air
The Belgaum Airport, located approximately 75 kilometres from Gokak town, is the closest airport. Regular coaches from Belgaum towards Gokak are further provided by the Karnataka State Highway Development Corporation.
Nearby Tourist Attractions to Gokak Falls
From the bus station, you can easily stroll to a viewpoint where you can take beautiful shots with the majestic waterfall in the foreground.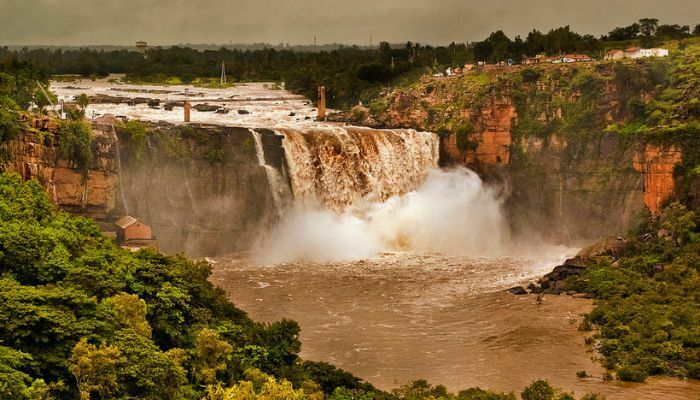 Visitors stay a few hours around Gokak Falls to take in the scenery and do some sightseeing. Here are some of the nearby places that you can explore while visiting Gokak Waterfall:
1. Belgaum Fort
In Belgaum, there is a well-known tourist spot called the Belgaum Fort. It was recently recognised as a "rich historical landmark" by the state of Karnataka. It protected them from the adversaries' ferocious assaults by acting as an unbreakable barrier.
Also detained here during India's freedom struggle was Mahatma Gandhi. There is a hovering restaurant on the Fort Reservoir, a lake that is next to the Belgaum Fort.
There are pedal-powered sailboats and speedboats accessible for visitors, and the area is well-maintained.
2. Kapileshwar Temple
A sacred temple in Belgaum City, Kapileshwar Mandir, is devoted to Lord Shiva and is therefore regarded as the southern Varanasi.
The Shahpur Flyover, which links the core metropolis of Belgaum to Shahpur, lies next to the shrine. It is said that without beginning at Kapileshwar Temple, a tour and sighting of the twelve Jyotirlinga dispersed throughout India will be insufficient.
3. Ramakrishna Mission Ashram
The Ramakrishna Mission Ashram, which is tucked away inside the grounds of Belgaum Fort, offers its guests a tranquil haven away from the noise of the city.
The Ramakrishna Mission received the residence that Swami Vivekananda occupied for nine days during his 1892 visit to Belgaum for spiritual and humanitarian objectives.
In 2001, immediately following the completion of the refurbishment of the building, the ashram was constructed.
4. Khade Bazaar
Almost every city has a fantastic market where virtually everything is sold. Khade Bazaar Road and Ganpat Galli are the locations of the global market in Belgaum City. Every day, a huge influx of people enters the market.
A 1-kilometre road segment that has been transformed into a marketplace, Khade Bazaar, sells a wide range of goods, including gadgets, trend upgrades, daily necessities, goodie bags, cafes, and vendors selling street food.
5. Rakaskop Dam
A 16-kilometre drive from the city centre, across the Markandeya Riverbed, is a reservoir famed for its green surroundings that supply water to the whole city of Belgaum. It is called the Rakaskop Dam.
Families and adults looking to spend some quiet time alone strongly prefer the dam. In addition to residents of Belgaum and the neighbouring areas, Rakaskop is now a well-known camping location for visitors to Belgaum on occasion.
Best Time to Visit Gokak Waterfall
The Gokak Waterfalls are a stunning sight and a popular tourist destination. The greatest opportunity to explore is from July through September when it is raining and the falls are at their fullest and sound the most beautiful against the rocky canyon.
There is no entry charge, but guests are asked to leave after sundown. In the little hamlet of Gokak, the tranquilly of the falls, the architectural grandeur of the structures, and the Shiva shrine perfectly blend environment and tradition.
Travel Tips That You Should Keep in Mind
Try not to keep any valuable items or jewellery with you because they might get lost while you are enjoying the waterfall.
You must keep enough pairs of clothes with you if you are planning on taking a bath in the waterfall.
It is possible that while travelling to such places one might get injured, so one must keep a first aid kit with them for emergency cases.
Hand sanitizer is the most important thing to keep with you.
Make sure to wear sports shoes while traveling to places such as waterfalls; it will definitely help you enjoy yourself more.
Conclusion – Gokak Falls Karnataka
Whenever it comes to arranging a holiday with buddies, falls have been a top priority. Every region of India has a well-known waterfall where residents spend the majority of their weekends.
We are connected directly to something enjoyable and worthwhile when we see waterfalls! All of these and more may be found at the Gokak waterfall Belgaum. Observing the water run from the dark fields and over the rocky strip has been a breathtaking sight.
Watch a Drone Shot of Gokak Falls Karnataka
Map of Gokak Waterfall Karnataka
Check out some of the most beautiful waterfalls of the country-