This is a complete travel guide to Sirnapally Waterfalls, Telangana. We've mentioned location, things to do, how to reach, nearby attractions, timing, tips, etc information in this guide.
Sirnapally Waterfalls Overview
| | |
| --- | --- |
| Location | Sirnapally, Nizamabad district, Telangana |
| Entry Fee | 20 Rupees |
| Timing | 9 am – 5 pm |
| Best Time to Visit | Oct, Nov, Dec |
| Nearby Bus Stop | Sirnapally Bus Stop (3.1 km) |
| Nearby Railway Station | Sirnapally Railway Station (4.2 km) |
| Nearby Airport | Hyderabad Airport (103 km) |
| Famous For | Trekking, Bathing, Exploring Nature |
| Nearby Attractions | Kuntala Waterfall, Kawal Tiger Reserve, Savatula Gundam Falls, Gayatri falls, etc. |
Sirnapalli waterfall is one of the gems of Telangana state, present in Nizamabad district, whose beauty enhances during rain.
The Sirnapalli waterfall is also known as Janaki Bai Falls, named after the landowner of this place, Seelam Janaki Bai.
The landowner also built several water bodies that maintain the water flow for the city. She also built several lakes for agricultural purposes as well as for drinking water.
The waterfall is quite famous among tourists, and there are a lot of people who visit the place during weekends.
Suggested – Explore Bogatha Waterfall, one of the most beautiful attractions in Telangana.
Interesting Facts about Sirnapally Waterfalls
The waterfall is named after the landowner of the place, Seelan Janaki Bai.
The place is quite famous among tourists, so you can find a lot of people near it.
The place is quite famous, but there are also no shops in the area.
People living near this place often visit here to spend their weekends with family and friends.
The place is a real gem in Telangana because it allows you to explore nature as much as possible.
Things to do at Sirnapalli Waterfalls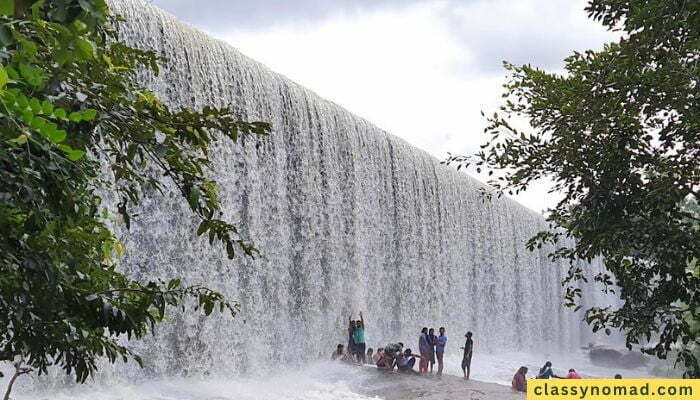 There are several activities that can be done near the waterfall that you can enjoy with your family and friends:
1. Trekking
Trekking is one of the best things that you can do while traveling to the waterfall. There is not a long trekking path while traveling to the waterfall, but people enjoy a small path.
It only adds to the attractiveness of this spot because the walkway is so lovely and covered with thick, green grass.
2. Bathing
Bathing is a leisure activity that you can do while visiting the waterfall. The waterfall is quite deep, so it is suggested that you know how to swim and be careful.
The water level is quite high during monsoon season, and the speed of flowing water is also high, so it is suggested not to go inside the waterfall.
For relaxation and to forget their problems, visitors to this place frequently take a dip in the water of this waterfall.
3. Picnic
Waterfalls make for one of the best picnic spots on the planet. People living near the waterfall visit the place with their families and friends for picnics during the weekends.
4. Exploring Nature
As the waterfall is pure and resembles a great creation of nature, exploring nature and learning more about our environment is a nice activity to do here.
Because there are rarely any tourists at the waterfall, the area around it is exceedingly clean. This makes the area excellent for learning plenty about Mother Earth and the waterfall's environs.
There are several shrubs and herbs that are used medicinally and can treat a number of serious illnesses.
Suggested – Must visit Antharaganga Waterfalls, if you are exploring the beautiful waterfalls of Telangana.
How to Reach Sirnapalli Waterfall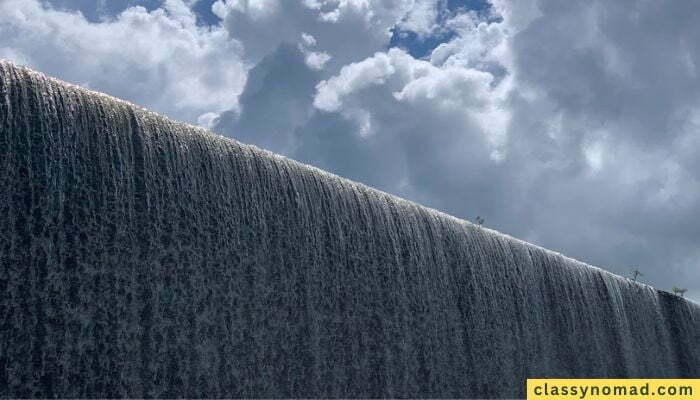 1. By Road
To visit this location, begin your journey in Sirnlapally and travel along NH44 until you reach the waterfall. There is mild difficulty in parking, and you have to cover 100 metres of the path while walking.
2. By Train
The nearest railway station to the waterfall is Sirnapally Railway Station. All you need to do is book your ticket to the station, and outside the station, you can find various transportation facilities.
3. By Air
The nearest airport to the Sirnapalli waterfall is Hyderabad Airport, and from here you can find various transportation facilities to reach the waterfall.
Suggested – Muthyala Dhara Waterfall is another very beautiful waterfall which is located in the Jayashankar Bhupalpally district of Telangana.
Tourist Attractions Near Sirnapalli Waterfalls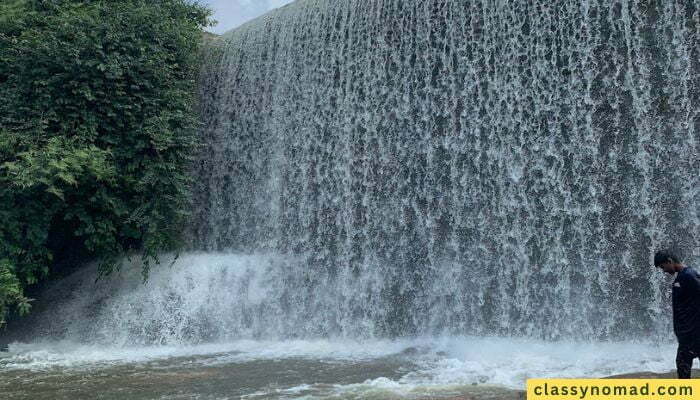 1. Kuntala Waterfall
The Telangana district of Adilabad is home to the stunning Kuntala Cascade. In the middle of a forested area, this cascade is accessible through a 10-kilometer ghat route.
After an enjoyable journey, one must descend 408 steps while taking in the scenery to gain a beautiful view of the waterfalls. The ideal time to see the cascades is after the rain.
2. Kawal Tiger Reserve
The Kawal Tiger covers an area of around 50 kilometers and is nearest to Mancherial.
There are about 100–500 meters of walking needed while exploring this place, and a minimum of 2 hours are needed. The place is open from 7:00 a.m. to 5:30 p.m.
3. Savatula Gundam Waterfalls
Savatula Gundam Waterfall has situated 350 km beyond Hyderabad and 30 kilometers towards Mancherial. It is a beautiful cascade that comes to life in the rainy season.
A little river stream that flows into the powerful Godavari river descends from an elevation of 150 meters. To get to these waterfalls from the parking area, one must hike for over two kilometers.
4. Gayatri Waterfalls
One of Telangana's most pure cascades is Gayatri, but it is also one of the most difficult to access. It is located on the exact same length as Kuntala Waterfalls as well as Pochera Cliffs.
5. Pochera Falls
Pochera Falls, which is 20 feet high, is located beyond Nirmal and Adilabad municipalities in Telangana.
It is surrounded by lovely woodland, and the current plunges 20 feet until leaping at the Kuntala cascades to meet the Godavari waterway.
Best Time to Visit Sirnapalli Waterfalls
The best time to visit Sirnapally Waterfalls is post-monsoon, which is from the months of October to December. During the monsoon season, the water level at this place is quite high, which makes this place dangerous for people.
The place is open from 9:00 a.m. to 5:00 p.m., and the entry fee per head is 20 rupees. The minimum time required to explore this place is around 2–3 hours.
Travel Tips
The climate is cooler during most of the year, so it is suggested that you keep some woolen with you if you are planning to go camping.
As you'll visit the place during the rainy season, it is suggested that you keep an umbrella with you.
Wear shoes with a good grip as the path might be slippery.
Carry binoculars with you to enhance your vision and explore this place as much as possible.
If you are planning to take children with you, then you have to take more care of them and not allow them to get near the water.
Conclusion
The Sirnapalli waterfall is worth visiting, and people often visit this place with their family and friends to spend their time. This place is a real gem in Telangana state and allows you to explore Mother Nature more efficiently. There are a lot of activities that can be done by people visiting this place and exploring it.
Map of Sirnapalli Waterfalls