It is a complete travel guide to Asalea Waterfall, West Bengal. We've mentioned location, how to reach, things to do, nearby attractions, tips, etc information in this guide.
Asalea Waterfalls Overview
| | |
| --- | --- |
| Location | Mirik Rd, lower Millikthong, Kharbani, West Bengal |
| Entry Fee | Free |
| Timing | 24 Hours |
| Best Time to Visit | Monsoon & Winter Season |
| Nearest Bus Stop | Siliguri (42 km) |
| Nearest Railway Station | Siliguri Jn (42.6 km) |
| Nearest Airport | Bagdogra Airport (40 km) |
| Famous For | Trekking, bathing, exploring nature |
| Nearby Attractions | Eagle's Crag, Nakha Pani Lake, Kali Khola waterfall, etc. |
Alike other states of India, West Bengal is also home to many beautiful waterfalls that attract tourists from everywhere. Some of the most popular falls of W. B. are Changey Waterfalls, Ghagra Waterfalls, Chunnu Waterfalls, etc.
There are also many waterfalls that are not very famous but are very beautiful. Asalea Waterfall is one of them. It is very beautiful but not much famous.
In the Darjeeling district's Mirik sector, there is a settlement by the name of Kharbani. This may be the final village along the Indo-Nepal boundary.
This location, which is about 2.5 hours away from Siliguri, provides a stunning view of Nepal's rice fields, Mechi rivers, and tea plantations. The stream Sidhi, which subsequently meets the River Mechi, originates from this cascade in Asalea.
The best area to experience short trekking trails and enjoy nature is near this waterfall. Because few people are aware of this hidden waterfall, its surroundings are unpolluted.
Interesting Facts about Asalea Waterfall
People often visit this place with their family and friends to enjoy their weekends.
As the place is not known to many people, the surroundings are not polluted.
It might be dangerous to go here alone, as the waterfall is between dense woods.
The waterfall looks so pretty during monsoons as well as the winter season.
The Asalea waterfall is so beautiful that you'll definitely be lost in its beauty.
Things to do at Asalea Waterfall
1. Trekking
If you love trekking, then this place will be perfect for you. The trek is around 3.5 km, which might take 1-2 hours depending on your speed and the number of halts you took. People mostly visit this place with their friends to enjoy it to the fullest.
If you do not know the path, you can ask villagers and people living near the waterfall to guide you. Make sure to keep a raincoat with you, as the possibility of rain is quite high on the trekking path.
2. Bathing
Bathing in a waterfall that has fresh and clean water is the best thing that you can do while visiting a waterfall. People visiting here often take a bath in the water of this waterfall for refreshment and to forget all their worries.
3. Exploring Nature
The surroundings of the waterfall are very clear because it has a very low number of visitors on a daily basis. This makes this place suitable for exploring more about Mother Earth and the surroundings of the waterfall.
One can find many herbs and shrubs that have medicinal uses and cure several major diseases.
How to Reach Asalea Waterfall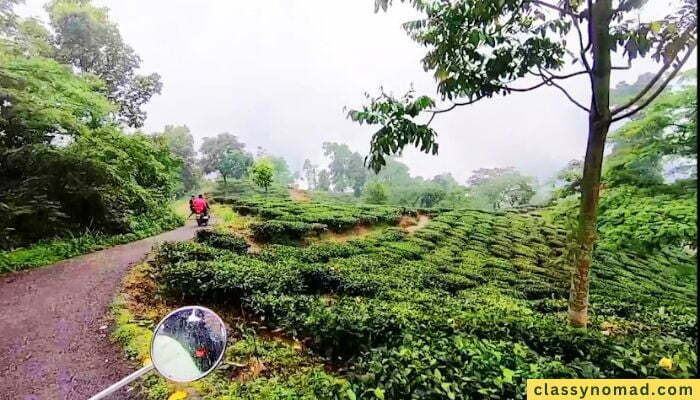 1. By Road
Asalea waterfall is only 42 kilometers from Siliguri, which will take approximately 1 hour and 30 minutes to reach. You can book a cab or bus, and from there, you can reach Tingling Tea Garden. Your trek will begin from the tea garden, which is around 3.5 km away.
2. By Train
Siliguri railway station is the closest to the waterfall. All you need to do is book a ticket to Siliguri, and outside the railway station, you can find various vehicles that can take you to the waterfall.
3. By Air
Bagdogra airport is nearest to the Asalea waterfall. Bagdogra is only 40 km from the waterfall, which means it might take 1.5 hours to reach there.
Tourist Attractions near Asalea Waterfall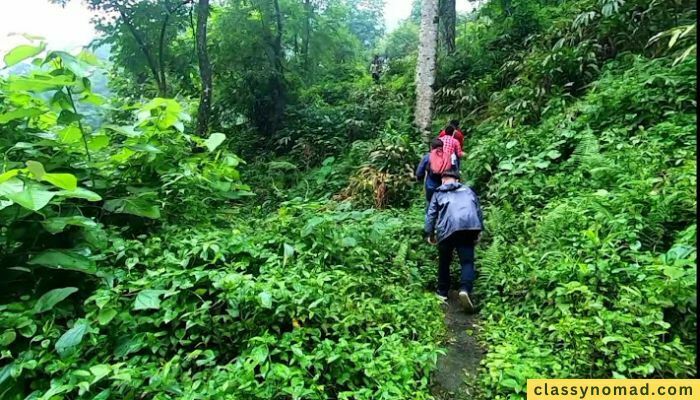 1. Eagle's Crag (31 km)
If you want to experience the beauty of nature, then Eagles Crag will be the best place to do so. It is situated in a town named Kurseong. From here, you can look at every point in the town.
People often visit here to see the sunset and sunrise and at the same time experience a beautiful creation of nature. The best part about this place is that it is located on the outskirts of Kurseong, because of which fewer people know about it.
Before visiting this beautiful place, you have to park your vehicle at a distance and reach it by climbing spiral stairs.
2. Nakha Pani Lake (22 km)
Nakha Paani Lake is located between the tea gardens of Gopal Dhara. This lake is so beautiful, and people love visiting this place so much.
Nakha Pani Reservoir, which is situated in Okayti's 7th mile, is a popular tourist destination as well as a good environment for the endangered Himalayan Amphibian.
The lake will stop flowing after the season ends because the water only collects here annually, giving the area the appearance of a pokhari.
As a consequence, its significance is thought to be significantly increased if the relevant authorities undertake special action to conserve Nakhpani Lake.
3. Kali Khola waterfall (145 km)
The Kali Khola Waterfalls, which the inhabitants also refer to as "Que Khola Falls," are found in East Sikkim all along the Old Silk Road between Rorathang and Rongli.
Because of its immense beauty, this 100-meter-high rushing waterfall is one of Sikkim's most popular and frequently visited waterfalls.
The hypnotic sight of its crystal blue water, tumbling over the untamed hills and sparking from the greenery of the mountains, tempts travelers on the road to stop and take some breathtaking photos of the environment with their smartphones.
4. Rangbhang River
The border between the guesthouse and the Rangbhang stream is permeable. The little lawn enhances the area's charm. constantly surrounded by hawthorn and cedar trees, with the Gopaldhara Tea Plantations in the opposite direction.
The whole day, songbirds chatter and flap. A dining area, a campfire, and a body of water that receives its supply from a stream channel are all located on the grass.
Barbecue can also be cooked over the campfire. To my amazement, the home-ground stands contain a genuine cascade.
Best Time to Visit Asalea Waterfall Darjeeling
The best time to visit Asalea waterfall is during the rainy and winter seasons. During this time, the beauty of the waterfall is at its peak, and everything looks so beautiful.
If you visit this place during the monsoon, you may find that the speed of the waterfall is quite high compared to the winter season. People visit this place in both seasons and enjoy their weekends.
Travel Tips
You must keep some snacks and water with you because there are no shops available at the waterfall.
Wear shoes with good grip to avoid accidents.
Keep a first-aid kit with you for emergencies.
It will be good to go there in a group because it might be dangerous as the waterfall is inside the woods.
If you are going with children, make sure to take more care of them as it might be difficult for them to walk and reach the waterfall.
Conclusion
Asalea Falls is a mesmerizing place that is still unknown to many people. Visiting a place that is beautiful and has an unpolluted environment is the best. So if you are planning on traveling to West Bengal, then you must visit the Asalea Waterfall.
Want to explore more hidden waterfalls of India? Check out a few waterfalls given below
These are situated in the Odisha state of India.
FAQs on Asalea Waterfalls Darjeeling
1. Where is Asalea Waterfall located?
Asalea Waterfall is situated near Mirik town which lies in the Darjeeling district of West Bengal. It is 14 km away from Mirik town and 40 km away from Siliguri.
2. What is the best time for visiting Asalea Waterfall?
Monsoon & Winter Season is the best time to visit Asalea waterfall. If we talk about months, August, September, October, November, December, January February, and March are the best months to explore this waterfall.
3. What is the nearest town to the Asalea Waterfall?
Mirik town and Siliguri are the nearest towns to the waterfalls. Mirik is 14 km and Siliguri is 40 km from the location of the Asalea waterfalls.
4. What are the tourist attractions around the Asalea Waterfall?
Eagle's Crag , Nakha Pani Lake, Kali Khola waterfall, Rangbhang River, Bokar Monastery, Mirik Lake, Tingling Viewpoint, Pashupati Market, Don Bosco Church, Simana Viewpoint, are some of the best tourist attractions near Asalea falls.
5. How far is Asalea Waterfall from Kolkata?
Asalea waterfall is around 605 km from Kolkata, the capital city of West Bengal.
Distance from Major Cities / Towns
| | |
| --- | --- |
| Singbulli Tea Garden | 4.5 km |
| Mirik | 14 km |
| Dudhia | 17 km |
| Siliguri | 40 km |
| Khoribari | 53 km |
| Thakurganj | 70 km |
| Kishanganj | 116 km |
| Kolkata | 605 km |
Map of Asalea Waterfall Darjeeling