This is a complete travel guide to Barwalla Waterfall Ganderbal. In this guide, we've mentioned location, things to do, best time to visit, how to reach, nearby tourist attractions, travel tips, facts, map, etc useful information.
Barwalla Waterfall Ganderbal Overview
| | |
| --- | --- |
| Location | Near Ganderbal, J&K |
| Entry Fee | N/A |
| Opening Hours | 24 Hours |
| Best Time to Visit | Apr, May, Jun, Jul, Aug, Sep, Oct |
| Nearest Town | Ganderbal (18 km) |
| Nearest Railway Station | Srinagar Railway Station (47 km) |
| Nearest Airport | Sheikh Ul Alam International Airport (45 km) |
| Famous For | Bathing, Fishing, Picnics, Photography |
| Nearby Attractions | Zojila Pass, Thajiwas Glacier, Baltal Valley, Nichnai Pass, etc. |
Barwalla is a town in Jammu and Kashmir's Kangan Tehsil of the district Ganderbal. The capital city Srinagar is around 34 km away from the location of the Barwalla Waterfall.
One kilometer away from Kijora Bridge or Kangan's Dumping Park is the location where Barwalla Waterfall is situated.
If approaching from the Ganderbal side, visitors must make a left turn well before the Kijpora bridge in order to reach this lovely waterfall of Barwalla.
Suggested – Visit Ganderbal Waterfall, one of J&K's less-known tourist attractions.
Interesting facts about Barwalla Waterfall Ganderbal
A man-made channel is causing rushing water to fill the area (waterfall).
The Nallah originates in the Harmukh mountain, flows through Naranag, and then meets the Kankanala, which is also a mountain that originates in the Harmukh range.
After the confluence of the two rivers, the Sindh River meets the Barwala River close to the Kijora Bridge.
Barwalla Waterfall is one of Kashmir's largest artificial waterfalls and is among its most picturesque and stunning features.
The area is encircled by lovely trees.
Suggested – Explore Drung Waterfall which is located in Baramulla district of J&K.
Things to do at Barwalla Waterfalls Ganderbal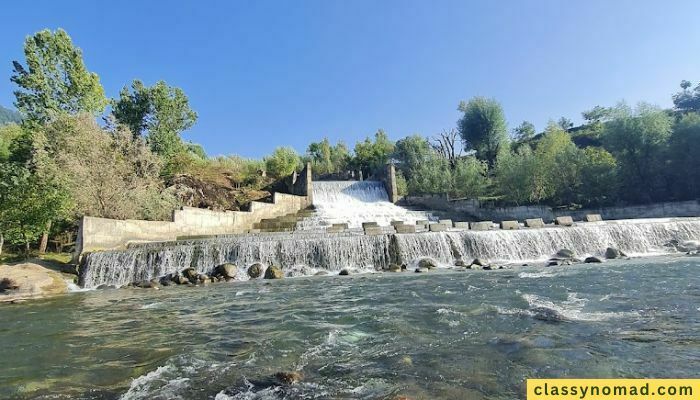 1. Bathing
People from Ganderbal and Srinagar come here for a swim on the northern side of the waterfall. If you want to, all of you can take a dip.
2. Fishing
Small streams rarely have falls this enormous, but if you're fortunate enough to find one, you might be able to hook up with one of the stream's largest trout. Here, you can try fishing.
3. Picnic
The trees encircle entirely the place. Families are welcome to visit this location for a brief picnic and to hear the waterfall.
4. Photography
Additionally, there is a bridge over the channel's top that can be used for photography. Photographs are something you can take and keep forever.
Suggested – Shrunz Waterfall, located in Baramulla district of J&K is also one of the travel-worthy tourist attractions in J&K.
How to Reach Barwalla Waterfall near Shrinagar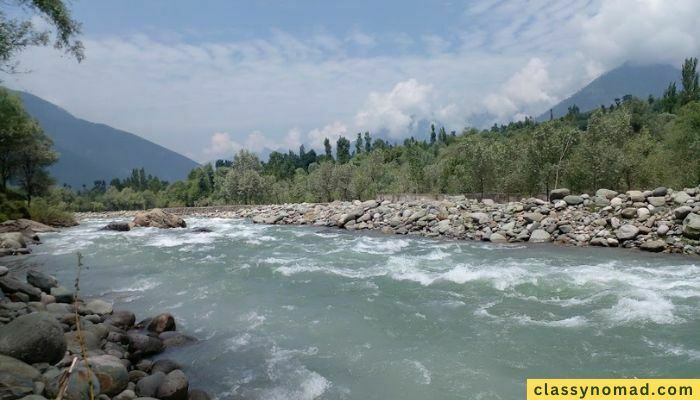 1. By Road
Ganderbal Bus Stop is the nearest bus stop to the waterfalls. It takes 30 mins to reach the waterfalls from here.
2. By Rail
The nearest Railway Station is Srinagar Railway Station. You can take a cab or taxi from the station to reach the waterfalls.
3. By Air
The nearest airport is Sheikh Ul Alam International Airport from the waterfalls. Once you reach the airport, you can take a cab or taxi to get to the falls.
Suggested – Explore Namblan Waterfall, one of the less-known waterfalls in J&K.
Tourist Places around Barwalla Waterfall, Ganderbal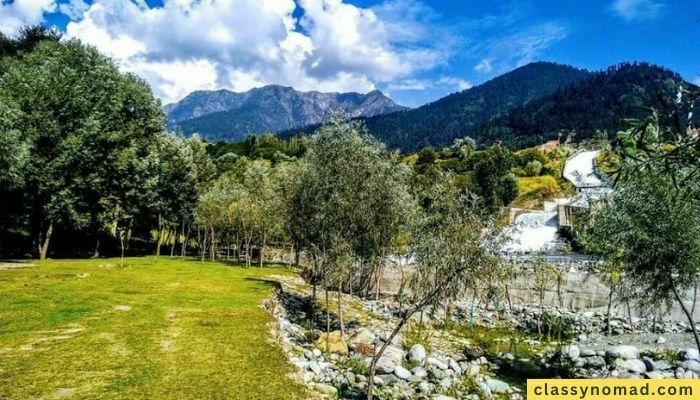 1. Zojila Pass
High mountain passes Zoji La is situated in Ladakh's Kargil area. The pass connects Leh and Srinagar and acts as a vital conduit between Kashmir and the Union Territories of Ladakh. The "Mountain Pass of Blizzards" is Zoji la.
2. Thajiwas Glacier
Thajiwas Glacier, in Jammu and Kashmir, is enormous and endowed with magnificent beauty. It is located at a height of 9,186 feet not far from Sonmarg.
It is among the most breathtaking landscapes you will ever see, surrounded by ice lakes, evergreen trees, and meadows and overlooking the Thajiwas mountain.
3. Baltal Valley
Anybody can hire horses to get here, which is well-known for its breathtaking natural scenery. Additionally, it is a well-liked vacation spot for hikers and adventure seekers.
4. Nichnai Pass
All trekkers should travel to Nichnai Pass, which is at an elevation of 4139 meters above sea level. Do not miss out on visiting Vishansar and Krishnasar Lakes, which are close by to this route.
It is advisable to hike around to take in this pass's pristine splendor, which is available from June to September.
5. Nilagrad
Six kilometers separate Nilagrad from the breathtaking Sonmarg. The Indus River and Nilagrad combined as they flow over several mountains contribute to the area's natural splendor.
The River is revered by the locals because it is red and is thought to have healing qualities.
6. Wular Lake
In the Indian region of Jammu as well as Kashmir's Bandipore district sits the big freshwater lake known as Wular Lake (sometimes spelled Wullar). The Jhelum River feeds the lake basin, which was created as a consequence of geological activity.
7. Shrine of Baba Shukurddin
The most well-known shrine in the Bandipora District of North Kashmir is Baba Shakur-ud-Din, which is situated 17 kilometers to the northeast of Sopore on a hilltop overlooking the picturesque Wular Lake.
It also goes by the name KralSangri. It is located halfway between Bandipur and Sopore.
8. Dal Lake
Kashmir's tourist and leisure sectors greatly depend on the urban lake, often known as "Srinagar's Jewel." The lake is a crucial location for commercial fishery and water-processing harvesting operations.
Best Time to Visit Barwalla Waterfalls
The summer season here runs from April through October, making those months the best time to travel there. Visitors who want to go trekking can choose to go to the Barwalla waterfalls in the first few days of winter.
Suggested – Aharbal Waterfall is a must-visit tourist attraction if you are in the Kulgam district of J&K.
Travel Tips
Wear sturdy walking boots or shoes.
Observe established trajectories. Keep to the viewing decks and platforms.
Pay attention to the instructions and cautionary signs placed near waterfalls.
Never attempt to climb up or around a waterfall.
Never jump off waterfalls or into splash pools.
Watch out for both kids and dogs.
Never swim in the nearby stream above a fall or try to take photos of its height.
Be sure to have a change of clothes for the drive home. Your clothes, especially your shoes and socks, can get wet.
It is typical to have to cross streams and tiny, damp areas while hiking to a waterfall.
Conclusion
Barwalla waterfall is one of the many cascades in Kashmir that have not yet been fully discovered. The waterfall can do a lot to transform the valley into a wonderful paradise. You must make it a point to visit this waterfall with your family and friends to have an experience of a lifetime.
FAQs on Barwalla Waterfall
1. Where is Barwalla Waterfall situated?
It is situated in Kangan Tehsil of the district Ganderbal.
2. What is the best time to visit Barwalla Waterfall?
The months of April to October are the best months to visit here.
3. What are the nearby tourist attractions to Barwalla Waterfalls?
Dal Lake, Wular Lake, Nilagrad, Baltal Valley, Nichnai pass, Zojila pass, Thajiwas Glacier, and the Shrine of Baba Shukurddin are the nearby tourist attractions.
4. What is the distance between Srinagar and Barwala Waterfall?
The distance is 34.6 km which takes 58 min from Srinagar to the Barwalla waterfalls.
Map of Barwalla Waterfalls