This is a complete travel guide to Dharapalli Waterfalls Prathipadu, Andhra Pradesh. In this guide, we've mentioned location, things to do, best time to visit, how to reach, nearby attractions, travel tips, facts, maps, etc useful information.
Dharapalli Waterfalls Prathipadu Overview
| | |
| --- | --- |
| Location | Prathipadu village, East Godavari district, Andhra Pradesh |
| Entry Fee | N/A |
| Timing | 24 Hours |
| Best Time to Visit | Oct, Nov, Dec, Jan, Feb, Mar |
| Nearest Town/City | Pithapuram (35 km) |
| Nearest Railway Station | Pithapuram Railway Station (35 km) |
| Nearest Airport | Visakhapatnam International Airport (145 km) |
| Famous For | Sightseeing, Picnic, Photography |
| Nearby Attractions | Coringa Sanctuary, Draksharamam Temple, Papi Kondalu, Visakhapatnam, etc. |
Dharapalli Waterfall is one of the less-known falls in the state of Andhra Pradesh. It is situated at a distance of 20 km from Prathipadu village, and 35 km from Pithapuram in the East Godavari district of Andhra Pradesh.
A hamlet in Andhra Pradesh is home to the Dharapalli waterfalls. Kinchyiputtu and Sariyapuutu are the places that are located close.
The waterfall is located in the middle of a dense jungle, which makes it very difficult to access. You can go there by jeep. The experience of driving through dense brush is exhilarating. From a considerable height, the waterfall cascades down to the hills.
Suggested – Visit Kaigal Waterfalls, one of the beautiful waterfalls in the state of Andhra Pradesh.
Interesting Facts about Dharapalli Waterfalls
It is known as the Niagara of East Godavari.
It is incredibly soothing to swim in this waterfall, which is encircled by a dense forest.
This fall and the one beneath it are both always full of water.
It offers an amazing opportunity for adventure lovers to explore nature.
Things to do at Dharapalli Waterfalls Prathipadu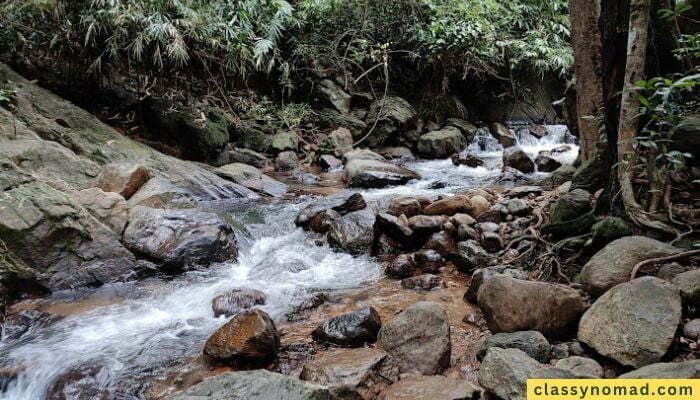 1. Sightseeing
The waterfall is hidden by dense woodland, yet Jeeps may reach it. Traveling through the dense bush is thrilling. The places around the waterfall and the roads are maintained by the inhabitants. You can reach the waterfall after a little hike from the entrance.
2. Picnic
You must pass through a forest and over large stones to get to the upper falls. From the parking, you can travel a short distance on foot to the lower falls.
The waterfall has cool, clean water is open all year round, and is surrounded by trees. Bring your loved ones and friends together for quick picnics.
3. Photography
The main benefit of the site is the low flow, which makes it simple to take a brief shower. It is well-known for possessing one of the state's best waterfalls.
You can capture the moments on camera to remember them afterward.
Suggested – Go to Ethipothala Falls, one of the hidden waterfalls in Guntur, Andhra Pradesh.
How to Reach Dharapalli Waterfalls Andhra Pradesh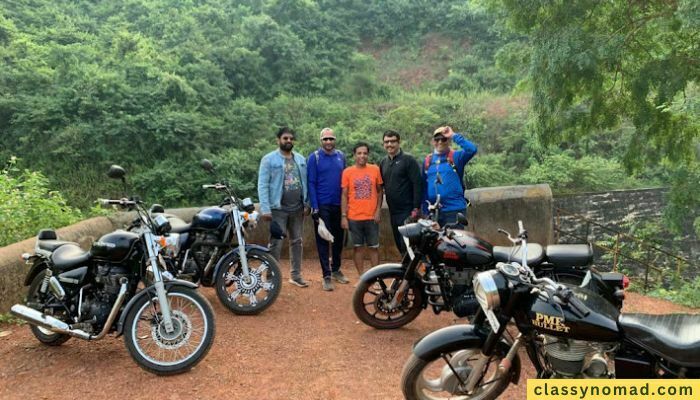 1. By Road
The closest town to Dharapalli Waterfalls is Pithapuram. The waterfall is 35 kilometers from Pithapuram. Pithapuram has a road connection to major cities of the states. APSRTC BUS STAND is the bus stand in Pithapuram where buses from different cities come.
2. By Rail
There isn't a railroad station within 10 kilometers of the Dharapalli Waterfalls. Nevertheless, there is a train station in the nearby town of Pithapuram which is around 35 km from the location of the waterfalls.
3. By Air
There are no direct flights to Prathipadu, which is the village nearby to the waterfalls. You need to reach Visakhapatnam by air, it's well connected to other cities by the airline.
When you reach there you can book a taxi or cab to help you reach the waterfalls.
Suggested – Explore Rampa Waterfalls if you are looking for doing something adventurous,
Tourist Places around Dharapalli Waterfalls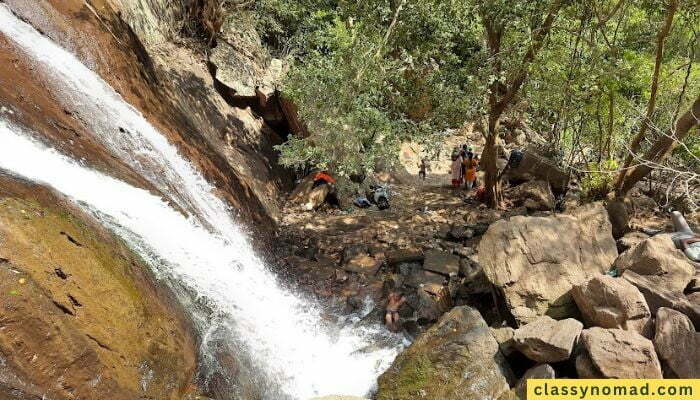 1. Draksharamam Bhimeswara Swamy Temple
It is one of the "Pancharamas" temples and is situated in the village of Draksharamam, which is 28 kilometers away from Kakinada. This temple's distinguishing feature is its crystal lingam.
Throughout the year, thousands of devotees and tourists flock to this old, revered, and holy pilgrimage site. It falls under the archaeological department's protection as a monument.
2. Coringa Sanctuary
The Coringa Sanctuary is around 20 kilometers from Kakinada and is situated close to the port. It is a must-visit destination for people who love to see different kinds of plants and animals.
This sanctuary's diverse habitat, which is made up of thick mangroves and rich vegetation, makes it an evergreen forest.
It is an excellent location for bird watching and fishing. There are numerous animal species to witness, including seagulls, pelicans, and saltwater crocodiles.
3. Draksharamam Temple
It is one of the older Shiva temples and is situated about 40 kilometers from Rajahmundry. The name Dakshina Kasi was given to it by Sage Vyasa.
For followers, Seven River Pond is the main draw. It is thought that the water in this pond has healing properties and can remove curses and illnesses.
The temple's wall carvings and inscriptions are some of its other distinguishing characteristics. The most well-known celebration observed here is Shivarathri.
4. Papikondalu
One of the amazing places, Papikondalu, also known as Papi Hills, is similar to Kashmir. This classy hill town is peacefully sprawled along the dynamic Godavari river. It is a fantastic beach destination in Andhra Pradesh.
The sensual splendor of the Papi hills will stop your heart in its tracks. A breathtaking trip, taking the boat from Rajahmundry to Badrachalam will allow you to experience the most beautiful moments of your life.
The nice things to enjoy are the hot, fresh breeze, calm environment, brilliant vegetation, adorable little fishes seen in the water, drifting sand, twists, and bends of the river, and captivating bird music. There are many adventures and amusements at Papi Hills.
5. Visakhapatnam
Visakhapatnam, or Vizag for short, is a well-known seaside city where the true attractions of Andhra Pradesh can be discovered. It bears the name of Lord Visakha, a mighty deity.
During the British era, this little fishing community saw a dramatic transformation into a thriving industrial and commercial hub. It is the largest shipbuilding facility in India and still serves as the eastern naval command's administrative center.
It is undoubtedly a paradise brimming with attractions and beautiful scenery. This magnificent city's immense natural beauty, which includes rocky mountain peaks, deep valleys, golden beaches, and caverns, draws nature lovers, birdwatchers, animal lovers, and fun-seekers together.
Three magnificent hills—Venkateshwara Konda, Ross Hills, and Dargahkonda—form the city's natural boundary. Each of these hills is home to shrines to Lord Venkateshwara, Virgin Mary, and Saint Baba.
The most popular tourist attraction still retains its greatest allure, and a visit there is undoubtedly thrilling, captivating, and enlightening.
Suggested – Ananthagiri Hills Waterfalls is of the most beautiful waterfalls in the Ananthagiri Hills region of Andhra Pradesh. You should definitely visit there.
Best Time to Visit Dharapalli Waterfalls
October to March is the best season to visit Dharapalli waterfalls, but the Peak Season in Dharapalli waterfall is between November to January.
Travel Tips
It is suggested that visitors spend the entire day visiting the Dharapalli Waterfalls. It's difficult to approach them. To reach the falls, you must take a short stroll through the forest.
During monsoon season, the waves are quick and rough, and the pebbles are quite slick. Visitors are recommended to use additional caution when exploring the Waterfalls, even during the rainy season.
If you intend to join the water pool nearer to the falls, it is advisable to pack extra clothing.
There is no food available here. Don't forget to bring some food with you from the town or city where your journey begins.
Conclusion
The gorgeous Dharapalli Waterfalls, which are made up of rocky hills, valleys, and lovely waterfalls, is the ideal retreat for tourists. The Dharapalli Waterfalls are definitely the best and safest place for all kinds of travel. Do not skip this location.
Map of Dharapalli Waterfalls Andhra Pradesh