Are you planning to visit Ethipothala Falls? This is a complete travel guide to Ethipothala Falls which will surely help you in your journey.
Ethipothala Falls Overview
| | |
| --- | --- |
| Location | Thallapalle, Guntur, Andhra Pradesh |
| Entry Fee | N/A |
| Timing | 24 Hours |
| Best Time to Visit | Aug, Sep, Oct, Nov, Dec |
| Nearest Bus Stop | APSRTC Bus Stand, Macherla (15 km) |
| Nearest Railway Station | Macherla Railway Station (15.4 km) |
| Nearest Airport | Rajiv Gandhi International Airport (164 km) |
| Famous For | Waterfall, Adventure, camping |
| Nearby Attractions | Nagarjuna Sagar Dam, Amaravathi, Kondaveedu, etc. |
In the Indian state of Andhra Pradesh's Palnadu district, there is a river cascade called Ethipothala Falls that is 70 feet high and situated on the south bank of the Krishna branch, known as the Chandravanka.
Three streams—Chandravanka Vagu, Nakkala Vagu, and Tummala Vagu—combine to form the cascade. Nagarjuna Sagar Dam is nearly 12 km from this beautiful waterfall.
From the nearby hills, the Andhra Pradesh Tourism Sector constructed a prominent vantage point. In the pond that is created by the waterfall, there is a crocodile-rearing facility.
Suggested – Visit Andhra Pradesh's another hidden waterfall, Kaigal Waterfalls.
Interesting Facts about Ethipothala Falls
Locals who live close to the waterfall typically go there to spend their holidays with family and friends.
Trekkers should visit this waterfall at least once because it is the best for the activity.
You'll fall in love with the scene once you've reached the waterfall's crest.
People may easily get to the waterfall because it is close to several important cities.
The place also has a huge spiritual significance.
Things to Do at Ethipothala Falls
1. Trekking
As you are well aware, the cascades provide the perfect setting for trekking. After making a short ascent up a steep trail, you might reach the cascade.
Due to the rocks and limited roads, tourists may have to travel quite a distance to get there, but they will definitely be rewarded with unparalleled grandeur at the end of this laborious journey, making it absolutely worthwhile.
2. Picnic
A waterfall is an ideal place to have a picnic. You can make the most of every moment by sitting here, unwinding with family and friends, dining, partaking in several entertaining activities, and much more.
Locals who reside close to the waterfall frequently visit here on the weekends to relax and spend time with their loved ones.
3. Camping
Night camping with pals is the best thing you can do when you're in your 20s. They may enjoy activities like stargazing, barbecuing, and story-telling here at the cascade.
Suggested – If you are exploring Andhra Pradesh's hidden waterfalls, you should definitely visit Ananthagiri Hills Waterfalls.
How to Reach Ethipothala Falls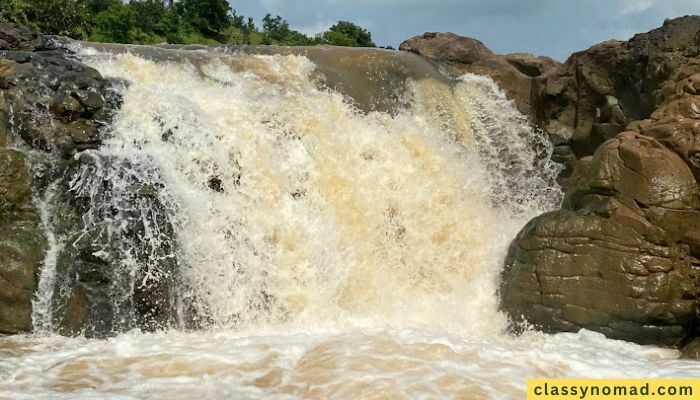 1. By Road
The waterfall is around 120 km from Hyderabad, which is around 3 hours away. It is best to visit the waterfall in your own vehicle, as public transportation is not available at this place.
2. By Air
You can visit the waterfall from Hyderabad airport. You'll get a lot of transport options outside the airport, but try to book your own cab for more convenience.
3. By Train
The nearest railway station to the place is Macherla Railway Station which is 15 km away from this waterfall.
Book your ticket to the city, and outside the railway station, you can find various public transport options. It is suggested that you book your personal vehicle.
Nearby Attractions to Ethipothala Waterfalls
1. Nagarjuna Sagar Dam
The Nagarjunasagar Dam in Nalgonda Region is constructed across the River Krishna and is the largest masonry dam in the world. It is guarded by 26 gates that are each 124.663 meters high.
The dam can irrigate 9.81 million acres of land and has a total capacity of about 11,472 million cubic meters. The dam, which is a popular tourist destination, is 16 km long and 150 m tall.
It is actually one of the earliest examples of irrigated agriculture launched by the Indian government as part of the Green Revolution.
2. Amaravathi
Amaravathi, also recognized as the capital of Andhra Pradesh, is a planned community on the shores of the Krishna River.
Amaravathi is well known for being the location of a Buddhist stupa, a semi-hemispherical building housing Buddhist treasures and frequently referred to as the "abode of God." As a result, Andhra Pradesh picked Amaravathi as its capital.
3. Kondaveedu Fort
Kondaveedu Fort is a historic hill castle situated in the Kondaveedu hamlet in the Guntur region of Andhra Pradesh, 32 kilometers from Guntur, 58 kilometers from Amaravati, and 73 kilometers from Vijayawada.
It is a popular tourist destination in Amaravati which is one of Andhra Pradesh's medieval forts.
Two other forts are close by. The three forts that once stood atop the constrained hills have all been reduced to rubble.
The oldest one, at a height of around 1700 feet, dates to the twelfth century and was regarded at the time as one of the finest forts in the area.
4. Uppalapadu Nature Conservation
The southern part of the city is home to Uppalapadu Environmental Preservation, a location where you may view several threatened bird species.
Every year, a large number of local and international tourists visit this breathtaking area which is close to Guntur.
The area's storage tanks are the ideal location to take in a breathtaking display of birds, including colorful storks and spot-billed pelicans.
However, the number of bird species has declined in recent years, from 12,000 to around 7000.
5. Mangalagiri
Mangalagiri, a suburb with a third-century history, is bordered by agriculture. One of India's eight most important holy temples, the magnificent Sri Lakshmi Narasimha Swamy Mandir, is located here along Mangalagiri Mountain.
In the Mangalagiri Protected Woods and close to the temple, there are well-traveled walking paths. Along with numerous cinemas and numerous shrines, the region has stores and fast food restaurants.
Best Time to Visit Ethipothala Waterfalls
Most waterfalls, as we all know, are best visited during the monsoon season, but this is not the case with the Ethipothala waterfall.
The best time to visit the waterfall is during the winter. During monsoons, the waterfall might get dangerous for visitors, and there are no shops available even at the top. Visiting this place is dangerous, so one must not visit it during rainy days.
Travel Tips
Pay attention to what the locals say and follow their recommendations.
Given how difficult the climb to the cascade is, it is better to go in groups.
Avoid leaving the area messy, and be a considerate traveler.
The only people who should visit this waterfall are those who enjoy the adventure.
Wear traction-enhancing footwear as the path leading to the waterfall is slick.
Conclusion
On the Nagarjuna Sagar road, this cascade is located 12 kilometers from Macherla in the Guntur region of AP. The fall is close to a park from which we may observe it. So, now you have got to know the complete Ethipothala Waterfalls travel guide, so what you are waiting for? Pack your bag and get to Ethipothala Waterfalls.
Suggested – Explore these hidden waterfalls of India
Video of Ethipothala Waterfalls
Map of Ethipothala Waterfalls