This is a complete travel guide to Sarugudu Waterfalls Vizag, Andhra Pradesh. In this guide, we've mentioned location, things to do, best time to visit, how to reach, nearby attractions, travel tips, facts, maps, etc useful information.
Sarugudu Waterfalls Visakhapatnam Overview
| | |
| --- | --- |
| Location | Near Narsipatnam, Visakhapatnam, Andhra Pradesh |
| Entry Fee | N/A |
| Timing | 24 Hours |
| Best Time to Visit | Monsoon Season |
| Nearest Town | Narsipatnam |
| Nearest Railway Station | Narsipatnam |
| Nearest Airport | Visakhapatnam International Airport |
| Famous For | Sightseeing, Picnic, Relax and Refresh |
| Nearby Attractions | Kakinada, Visakhapatnam, Rajahmundry, Lakshmi Devi Temple, Papi Kondalu, Munivattam Waterfalls, etc. |
The Sarugudu Waterfalls are located 37 kilometers southwest of Narsipatnam. The Shivaratri Festival, the Summer Season, and the Karthika Masam Peak Season are the busiest times for travelers to visit the waterfall.
The waterfall has a 365-day water cycle and a 30-foot height. The temple of Lord Shiva is being built, and it is next to a waterfall. A Shivalingam and Shiva-Parvathi statue are located close to a waterfall.
One of the most attractive picnics and tourism destinations is Sarugudu Waterfalls. This location is accessible via road.
Suggested – Visit Kaigal Waterfalls to do some adventure in your busy life.
Interesting Facts about Sarugudu Waterfalls
Every year, a respectable number of tourists visit this location.
Nothing is more wonderful for those who appreciate nature than witnessing a waterfall from such heights.
Near the falls, there is an ancient Shiva temple.
It is lovely to see the Shiva sculpture and Siva lingam close to the waterfall.
Plan a trip to the Sarugudu waterfalls if you enjoy being in flowing water and being under the forceful force of water coming down from above.
Suggested – Get to Ethipothala Falls to experience the amazing beauty of nature.
Things to do at Sarugudu Waterfalls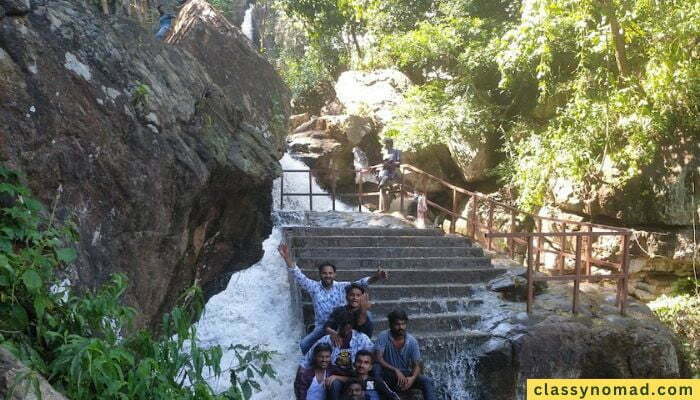 1. Sightseeing
It is the perfect place to dip your toes in the water or simply treat your eyes to some breathtaking visual treats; a must-see.
2. Picnic
Since the water is flowing from a height of around 30 feet, it has become a popular picnic and tourist destination.
3. Relax and Refresh
According to some research, viewing waterfalls too has demonstrated some health benefits. The abundance of negative ions in falls tends to promote serotonin release, which ultimately improves our mood.
Suggested – Dharapalli Waterfall is a must-visit for those who want to explore the natural beauty of Andhra Pradesh.
How to Reach Sarugudu Waterfalls Visakhapatnam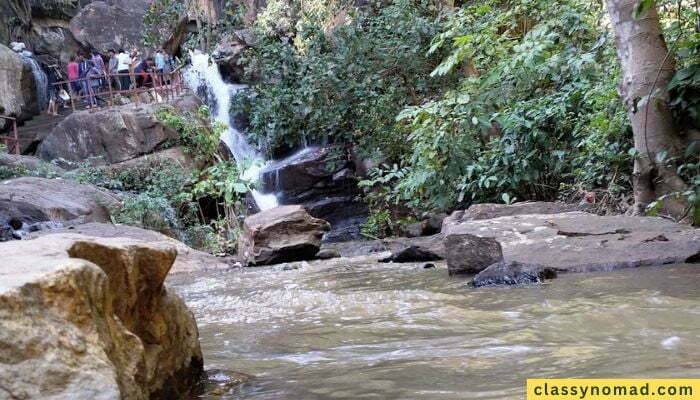 1. By Road
Sarugudu's closest town is Narsipatnam. Sarugudu is 35 kilometers from Narsipatnam. From Narsipatnam to Sarugudu Waterfalls, there is road access.
2. By Rail
There isn't a railroad station within 10 kilometers of Sarugudu. There are, however, train stations in the nearby town of Narsipatnam. After that, you can drive from Narsipatnam to the Sarugudu waterfalls.
3. By Air
The nearest airport to the Waterfalls is Visakhapatnam International Airport. Once you reach the airport you can take a cab or taxi to reach the waterfalls. 
Suggested – Ananthagiri Waterfall is one of the very beautiful waterfalls in the state of Andhra Pradesh that needs your attention.
Tourist Places near Sarugudu Waterfalls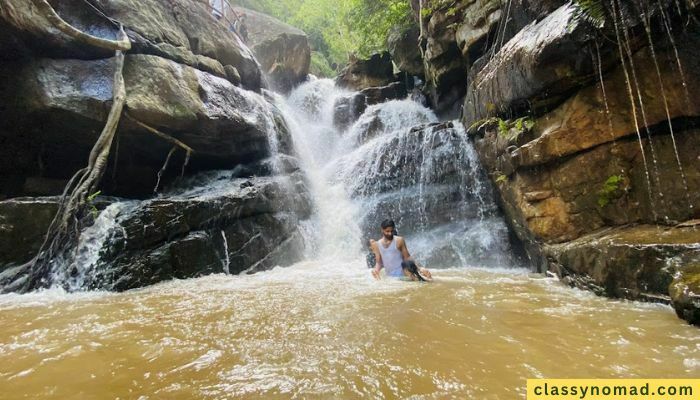 1. Kakinada
Located in the east Godavari district, the port city of Kakinada lies tucked away in a cove along India's east coast. In addition to their purity, several historical and religious sites provide a picture of the city's past.
In this country with abundant sacredness, there are numerous well-known temples like Annavaram, Antarvedi, Drakshamam, Pithapuram, and Ryali.
2. Visakhapatnam
It is known by the name of the powerful god Lord Visakha. Without a question, it is a utopia teeming with sights to see and breathtaking vistas.
The breathtaking natural splendor of this spectacular city, which encompasses rugged high mountains, river valleys, pristine beaches, and tunnels, attracts wildlife watchers, nature lovers, animal activists, and explorers.
3. Rajahmundry
In Andhra Pradesh, Rajahmundry, one of the oldest settlements and the "culture capital born city," is situated.
The King, whose monument is in the city's center, inspired the naming of this place. Rajahmundry is well-known for its scenic beauty. A favorite location for lovers of nature.
4. Varaha Lakshmi Narasimha Temple
It is a lovely shrine devoted to an avatar of Lord Vishnu and is generally referred to among devotees as Simhadri. A calm Hindu pilgrim perfectly exemplifies the fusion of Orissan and Chalukyan architectural traditions.
King Sri Krishna Devaraya paid a visit to this temple and gave it a priceless necklace, which is now kept with great care and devotion.
5. Lakshmi Devi Temple
A temple devoted to Goddess Lakshmi Devi that is very well-liked by female followers. The premises of this temple provide magnificent views of the picturesque surroundings. Although the temple's exact antiquity is unknown, it is unquestionably quite old.
6. Papi Kondalu
One of the amazing places, Papi Kondalu, also known as Papi Hills, is similar to Kashmir. This elegant hill hamlet is tranquility dispersed all along the vibrant Godavari river. a wonderful beachside area in Andhra Pradesh.
Your heart will halt in its tracks when you first see the Papi hills' seductive beauty.
7. Pattisam – Veerabadra Temple
Small island Pattisam is sometimes referred to as Pattiseema. On this island, the Lord Veerabadra Temple is well-known. The island's geographic center is where this temple is situated.
The only way to get to this temple is via boat, which is one of its intriguing features. It's remarkable to watch how skilled sailors control the boat. 
8. Munivattam Waterfalls
Popular Papi Hills tourist destination, A year-round pleasant location with a dense deciduous forest and a variety of flora and fauna.
According to certain traditions, Lord Rama with Sita resided here throughout their 14 years in exile. The breathtaking valley that surrounds the waterfalls is breathtaking to view.
9. Coringa Sanctuary
It is around 20 kilometers from Kakinada and is close to the port. A wealth of plants and animals. This preserve has a variety of habitats, including dense swamps and lush flora, which give it the appearance of a forest.
There are many different kinds of animals to see, such as pelicans, seagulls, and saltwater crocodiles.
Suggested – Rampa Waterfall is one of the less-known waterfalls in Andhra Pradesh that offers breathtaking views of nature.
Best Time to Visit Sarugudu Waterfalls
We all know that the monsoon season is the ideal time to explore any waterfalls. The waterfalls in Sararugudu are open 365 days a year, but the majority of visitors come in November since Lord Shiva considers that month to be auspicious.
Travel Tips
Since there are no stores near the waterfalls, it is advised to bring snacks and drinks just in case.
Carry an extra pair of clothes, if you feel like taking a bath in the waterfalls.
Always wear comfortable footwear that is not slippery and has a good grip, since the area and surrounding of waterfalls are generally very slippery.
Carry bags to store all the litter of your food items and other stuff.
Do not throw food waste or paper, etc near the waterfalls.
Be responsible as well as aware while enjoying the waterfalls.
Conclusion
The best use of our brief time here on this lovely planet earth is to see as many gorgeous sites as possible, like the Sarugudu waterfalls. Bring your dear ones and share the feeling of falling water to share love in the purest form possible.
Map of Sarugudu Waterfalls