This is a complete travel guide to Ghogra Waterfall Chhindwara (MP). Here, we've mentioned useful travel information like location, things to do, how to reach, best time to visit, nearby attractions, travel tips, facts, etc that will help you in making your trip easier.
Ghogra Waterfalls Chhindwara Overview
| | |
| --- | --- |
| Location | Near Sausar, Chhindwara District, Madhya Pradesh |
| Entry Fee | Free |
| Opening Hours | 24 Hours |
| Best Time to Visit | Monsoon & Post Monsoon Season |
| Nearest Town | Sausar (10 km) |
| Nearest Railway Station | Sausar Railway Station (11 km) |
| Nearest Airport | Nagpur Airport (76 km) |
| Famous For | Picnic, Adventure, Exploring Nature |
| Nearby attractions | Sausar City, Jamlapani Dam, Meherakhapa Dam, Devgarh Fort, etc. |
Ghogra Waterfall is located in the Chhindwara district of Madhya Pradesh. People from all around the nation visit Chhindwara to explore the beauty of this waterfall.
During monsoons, the beauty of the waterfall is at its peak. The waterfall is around 65 km away from Chhindwara and is 30 feet above sea level.
Take additional precautions if you're heading on a picnic or visiting Ghogra Waterfall in the wet season. During the monsoon season, the river's level of water increases quickly, and along with it, the volume of liquid also rises.
Staying in the middle of the stream or on the other bank might, however, present issues. We also believe it is our responsibility to inform you of these issues so that you can fully enjoy a beautiful cascade with your family or friends.
Interesting Facts about Ghogra Waterfall Chhindwara
The waterfall is around 30 feet above sea level.
The waterfall is so beautiful, and people living near the fall usually visit the waterfall.
The best time to visit the waterfall is during the monsoon and post-monsoon seasons.
The waterfall is a great picnic spot for many people.
Things to do at the Ghogra Waterfall Chhindwara
1. Bathing
After a strenuous day of travel and strolling, taking a bath at the cascade is the next pleasurable pastime. Bathe in the reservoir where additional water is drawn from a higher stage, as well as in the showering water adjacent to the waterfall.
Because of the cold, relaxing water, locals who live near the waterfall regularly gather here on holidays to go swimming.
2. Exploring Nature
Uncovering and investigating nature's wonders will be fun for you if you enjoy being outside.
You will gain a better understanding of yourself and the universe around you by experiencing your surroundings. The calm environment helps you focus and discover your true feelings.
3. Picnic
Packing a picnic is among the pleasurable activities people indulge in when sightseeing at a waterfall.
Many families that travel to this region pack their lunches, and they have lunch while admiring the magnificent environment.
How to Reach the Ghogra Waterfall Chhindwara
1. By Road
The nearest bus station to the Ghogra waterfall is Sausar Bus Depot which is only 10 km away from the waterfall.
2. By Train
The nearest railway station to Ghogra waterfall is Sausar Railway Station which is 11 km away from the waterfall.
3. By Air
Chhindwara does not have an airport, so to reach the waterfall by air, one has to book a flight ticket to Nagpur and from there travel all the way to Ghogra via road.
Tourist Attractions near Ghogra Waterfall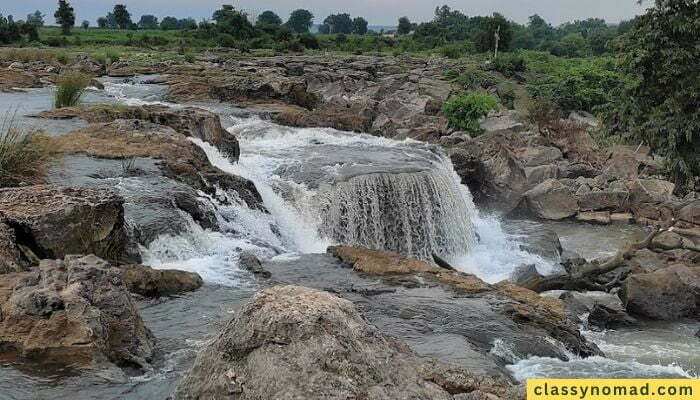 1. Sausar City (10 km)
Sausar is a city in the Madhya Pradesh state of India's Sausar Tehsil in the Chhindwara Region. It is a part of the Jabalpur Division.
It is approximately 55 KM southwest of Chhindwara, the district center. The Tehsil headquarters are there. Since Raymond fabrics moved to Borgaon during the 1990s, Sausar tehsil is now home to a wide range of enterprises.
2. Jamlapani Dam (10.6 km)
This location is in MP's Sausar Taluka. It is close to the town of Mohgaon Villa, which is well-known for the Ardhnareshwar Jyotirling, an ancient shrine.
Jamlapani is well-known for its "Satkinala Jalashay" freshwater reservoir and an ancient Shiv mandir with "Bawadi."
Everyone who wishes to visit this place to see its lovely scenery should initially go to Sausar, next drive for 3 kilometers to Jamlapani as well as 6 kilometers to Mohgaon Haveli.
The rural folks assist you with wonderful kindness if you have any problems.
3. Badal Bhoi Tribal Museum (66 km)
It is a library of rare, ancient artifacts that are connected to the tribal people that live in the area. Items pertaining to their religious practices, residences, garments, decorations, agricultural implements, dancing, songs, weapons, festivities, and art, as well as the deities they venerate.
The museum is named after Shri Badal Bhoi, a revolutionary tribal leader from the region. He was one of the key players in the Indian liberation movement.
4. Mehrakhapa Dam (9 km)
Mehrakhapa Dam is located in the Chhindwara district of Madhya Pradesh. The Dam is so beautiful and provides irrigation facilities in the nearby village.
The path of the dam is narrow so either you have to reach there by walking or by two-wheeler. You just have to go on a kaccha road and there you can see the Mehrakhapa Dam. 
5. Devgarh Fort (62 km)
The famous ancient fort of Devgarh Castle in Chhindwada is situated on a hill with a narrow gorge covered with a thick nature reserve.
Devgarh was the center of all splendor and glorious recollections up until the 18th century when it was renowned as the headquarters of the "Gond" empire.
Today, only deformed fragments are still visible, and the severed remains scream passionately about the glorious past.
Best Time to Visit Ghogra waterfall
The beauty of Ghogra waterfall reaches its peak during the monsoon and post-monsoon seasons. People often visit the waterfall during these seasons and spend some time with their family as well as friends.
Even during summers, the beauty of the waterfall is unbeatable, but during monsoons, the waterfall looks amazing due to the high level of flowing water.
Travel Tips
When visiting the waterfall, you must have insect repellent with you.
It is best to bring food and water bottles with you, as there are no stores close to the waterfall.
Dress in light cotton clothing to ensure your relaxation during the voyage.
You should always carry a camera to capture special occasions.
Wear shoes with a good grip.
Conclusion
If you are ever thinking of visiting Chhindwara, then Ghogra Waterfall should be on your list. The waterfall is beautiful and amazing. Everyone living nearby loves to visit the waterfall and explore its beauty.
More Waterfalls from Madhya Pradesh
FAQs on Ghogra Waterfall Chhindwara
1. Where is Ghogra waterfall situated?
Ghogra waterfall is situated near Sausar town, Chhindwara, Madhya Pradesh.
2. What is the best time to visit Ghogra Waterfall?
The best time to visit Ghogra waterfall is during the monsoon and post-monsoon seasons.
3. What is the distance between Bhopal and the Ghogra waterfall?
The waterfall is around 300 km away from the capital of Madhya Pradesh, i.e., Bhopal. It takes 6 hours to reach Ghogra waterfall from Bhopal by road.
4. What are the attractions near Ghogra Waterfall?
There are several places that people can visit while visiting the waterfall, such as Sausar City, Jamlapani Dam, Meherakhapa Dam, Badal Bhoi Tribal Museum, and Devgarh Fort.
Map of Ghogra Waterfall Chhindwara