This is a complete travel guide to Thommankuthu Waterfalls Thodupuzha, Kerala. Here, we've mentioned location, things to do, how to reach, best time to visit, nearby attractions, travel tips, facts, etc useful information.
Thommankuthu Waterfalls Kerala Overview
| | |
| --- | --- |
| Location | Thodupuzha, Idduki, Kerala |
| Entry Fee | N/A |
| Opening Hours | 24 Hours |
| Best Time to Visit | Sep, Oct, Nov, Dec, Jan, Feb |
| Nearest Town | Thodupuzha (20 km) |
| Nearest Railway Station | Aluva Railway Station (65 km) |
| Nearest Airport | Cochin International Airport (65 km) |
| Famous For | Photography, Adventure, Boating |
| Nearby Attractions | Mattupetty Dam, Kundala Lake, Top Station, Attukad Falls, etc. |
Thommankuthu Waterfall is an extremely beautiful waterfall in the Idukki district of the Indian state of Kerala. The flowing rivers that delicately run over the woods in this less-travelled area in the centre of a beautiful forest are renowned for their waterfalls.
The monsoon season, when all streams and rivulets inside the forests pour on with their full power to jump over a series of boulders to eventually arrive where you stand astounded at Thommankuthu, is when the boom of the waterfalls first reaches you from a great distance.
Suggested – Areekkal Waterfall is also one of the most beautiful falls in Kerala.
Interesting Facts about Thommankuthu Waterfalls
The Thommankuthu Waterfalls are a stunning location for anybody travelling to Idukki.
One of the best places in the area for adventure sports is this seven-step waterfall.
The area is well known for its abundance of picnic areas.
The location offers boating and fishing opportunities, which provide fantastic views of the valley.
It is undoubtedly a spotless gem that is beginning to catch the attention of our guests.
Suggested – If you are visiting the Kottayam district, you should definitely explore Kattikayam Waterfalls.
Things to do at Thommankuthu Waterfalls
1. Photography
The Thommankuthu Waterfall is surrounded by nature and has a number of captivating areas that provide for lovely backdrops for photos.
2. Indulging in Nature
Thommankuthu Waterfalls, which are tucked away in the forest, is one of the most romantic spots to hear animals and birds chatting all day long.
3. Boating
The waters of the Thommankuthu Falls are very supportive, conducive and safe for enjoying a boat ride along with your family and friends.
Suggested – Visit one of Thiruvananthapuram's tourist attractions Mankayam Waterfalls which offer stunning views of nature.
How to Reach Thommankuthu Waterfalls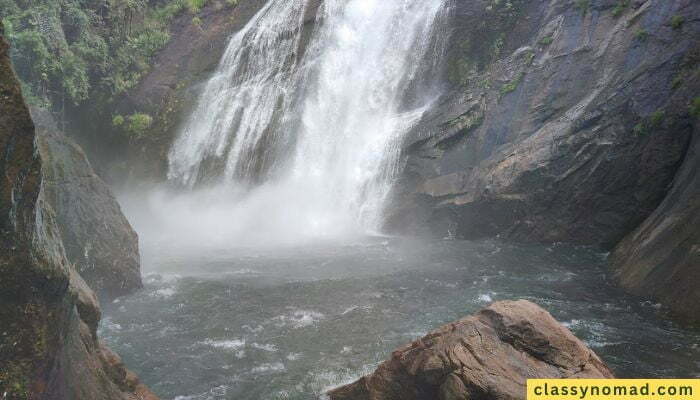 1. By Road
The towns of Thodupuzha and Muvattupuzha are located at a distance of 20 km and 35 km respectively. You can take a road route by bus from any of these towns.
2. By Rail
The nearest railway station to Thommankuthu Waterfalls is the Aluva Railway Station which is located at a distance of 65 Km from the falls.
3. By Air
In order to reach Thommankuthu Falls, you can land at the Cochin International Airport which is at a distance of around 65 Km from the falls.
Suggested – You will be amazed after seeing the beauty of Marmala Waterfall in the Kottayam district of Kerala.
Tourist Places near Thommankuthu Waterfalls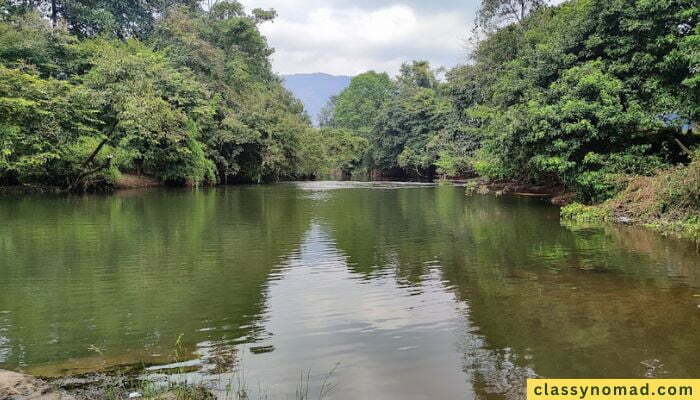 1. Mattupetty Dam
The enchanted hill town of Mattupetty, which is in one of Munnar's greenest valleys, provides visitors with an unforgettable experience and helps them connect with nature. This area's undulating hills covered in tea plantations and lovely rolling meadows make Mattupetty a charming place.
The Mattupetty hill village is 13 kilometres from Munnar and is situated close to the renowned Anamudi Peak at an elevation of 1,700 metres. The Mattupetty Dam and Mattupetty Lake are crucial for power production and water conservation, respectively.
2. Kundala Lake
On the route to Top Station, Kundala is situated around 20 kilometres from Munnar and is 1700 metres above sea level. People like visiting the cherry gardens nearby, which bloom twice a year and add to the beauty of the lake's surroundings.
However, due to their infrequent availability, it is difficult to observe the renowned Neela Kurinji flowers, which bloom just once every twelve years and transform the green valleys of Kundala into energising blue beauty.
3. Top Station
At a height of 1700 metres above sea level, Top Station is situated on the Munnar-Kodaikkanal route around 32 kilometres from Munnar. Given that it was the highest railway station in the Kundala Valley, Top Station received its moniker.
The famed Neelakurinji flowers (Strobilanthus), which bloom just once every twelve years, are what make this site so well-liked among travellers.
4. Echo Station and Point
This location is called the "Echo Station" for a reason. The peaceful stillness of the hill station is broken by the sounds that are spoken via this reservoir and echo back into the surroundings.
Echo Station, the second most visited destination in Munnar after Top Station, which is located on the same path, gets its name from the natural echo phenomena that occur there.
This tranquil location, which is approximately 13 kilometres from Munnar, allows visitors to enjoy hearing their voices constantly return to them.
5. Kannan Devan Tea Museum
This museum, the first of its type in the nation, was established with the goal of illustrating the development of the more than 100-year-old tea plantation in the Idukki District and putting special emphasis on the process of processing tea and its operations.
Here, one can see a really old, crude tea roller that was once in use, and one can also witness a completely automated tea factory that makes processing tea far too simple. This factory provides first-hand information on tea processing and the procedures involved in producing black tea.
6. Attukad Falls
One of Munnar's most well-known tourist attractions, Attukad Waterfall is great for hiking and picnics. The area is so stunning that it draws a lot of people each year who come to take in the view of the expansive waterfall and the rolling hills.
Attukad Waterfall, in the Idukki District between Munnar and Pallivasal, is indeed a feast for the eyes. Only a wooden bridge allows access to this interesting site, which is surrounded by a dense jungle and beautiful green terrain.
Suggested – Valara Waterfall, situated near Munnar is one of the most popular tourist attractions in Kerala.
Best Time to Visit Thommankuthu Waterfalls
The monsoon season is when these waterfalls are at their finest. However, the best time to go on a hike is not during the rainy season. Visit during the winter or after the monsoon.
The perfect time to take a relaxing trip to Thommankuthu Falls Munnar and walk for whatever distane you like is between September and February.
Suggested – You can't stop yourself from appreciating the beauty of Vattayi Waterfalls in Kerala.
Travel Tips
To maintain safety and comfort throughout your journey, you should choose cosy but supportive shoes.
To protect yourself from the intense sun, bring a hat and sunglasses.
Use sunscreen to avoid tanning and other allergies.
Carry an umbrella to protect yourself from the sun and rain.
Your guide should be obeyed since they are the most knowledgeable about the risks in that location.
Conclusion
Visitors can take a dip in the calm water of Thommankuthu Waterfall and enjoy the coolness of the mountain stream. You may experience thrilling hiking in the virgin landscape of steep forests while inhaling the scrumptious scent of the woods, which will leave you feeling rejuvenated and calm.
Suggested – Looking for beautiful waterfalls to visit in Wayanad? Go to Soochipara Waterfalls and enjoy the beauty of nature.
FAQs on Thommankuthu Waterfalls
1. Where is Thommankuthu Waterfall situated?
Thommankuthu falls is situated near Thodupuzha in the Idukki district of Kerala.
2. What is the best time to visit Thommankuthu Waterfalls?
The best time to visit Thommankuthu Waterfalls is from September to February.
3. What are the nearby tourist attractions to Thommankuthu Waterfalls?
The nearby tourist attractions to Thommankuthu Waterfalls are Mattupetty Dam, Kundala Lake, Top Station, Echo Station and Point, Kannan Deva Tea Museum and Attukad Falls.
4. What is the distance between Thiruvananthapuram and Thommankuthu Falls?
Thiruvananthapuram is located at a distance of around 221.5 Km from Thommankuthu Falls.
Map of Thommankuthu Waterfalls