It is a complete travel guide to Nanemachi Waterfall, so, if you are planning to visit there, this guide will definitely be helpful for you.
Nanemachi Waterfall Overview
| | |
| --- | --- |
| Location | Mahad, Raigad District, Maharashtra |
| Entry Fee | N/A |
| Timing | 24 hours |
| Best Time to Visit | Monsoon Season |
| Nearest Bus Stop | Mahad ST Stand (23 km) |
| Nearest Railway Station | Sape Wamne Train Station (35 km) |
| Nearest Airport | Pune International Airport (131 km) |
| Famous For | Waterfall, Natural Beauty, Adventure |
| Nearby Attractions | Tamhini Waterfall, Bhaje Waterfall, Pune, etc. |
What if we told you that you could plunge into a turquoise pool with a high-rising waterfall from above? You will definitely be mesmerized by the magnificence of the blue seas.
Nanemachi Waterfall, which is located on the fringes of Maharashtra and very near the Goa Expressway, is a hidden gem that very few locals and visitors are aware of.
The road that leads to this fantastic location is winding and surrounded on all sides by lush hills. You only need to walk through lush green pathways to get to the Nanemachi Cascade, so you don't need to be an expert hiker to complete this excursion.
Decide what you're going to do as you hear the thundering falls in motion, and be ready to have fun. Your final stop has been reached. You only get to witness lush green valleys, never-ending waterfalls, and a scene fit for an Instagram tale.
To reenergize and replenish your spirit, relax in the water. By the way, you could see little fish in the turquoise lagoon behind the waterfall; approach them carefully as they will undoubtedly tickle your senses.
Interesting Facts about Nanemachi Waterfall
At the beginning, there are food stands where you may purchase breakfast.
Since the people regard it as a holy location, it is prohibited to consume non-vegetarian food there and to enter the waterfall while wearing shoes.
You may also go to Satsada, another waterfall in the area. The name comes from the waterfall's seven stages of descent.
If you don't feel confident undertaking this walk alone, you can join a group trek led by an experienced trek leader.
People around this region often visit the waterfall with their family and friends to enjoy their weekends.
Things to do at Nanemachi Waterfall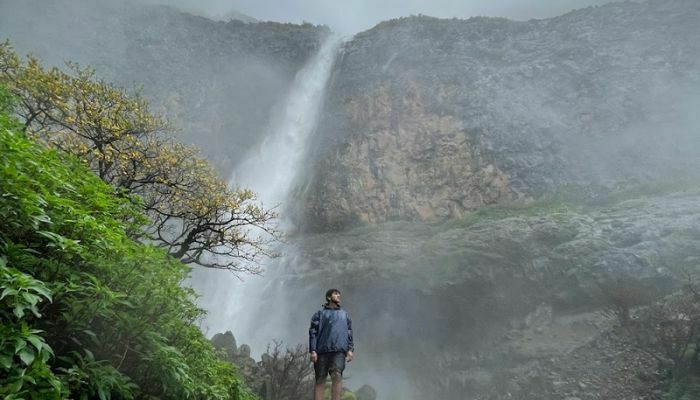 1. Trekking
It's not too difficult to hike to the waterfall. It will take about one hour to travel the three to four kilometers and reach the starting spot. Anyone with average physical fitness can attempt the Nanemachi waterfall trek and experience amazing views.
2. Bathing
The water at this place is very clear and cool. If you are planning on visiting this place, then taking a bath under a natural shower must be the first thing that you should do here. People often bring extra clothes with them in case they are planning on taking a bath in a wonderful place with a peaceful environment.
3. Picnic
Places like this can be a perfect picnic spot for everyone. The peaceful environment and pure air at this place make you more and more comfortable with this place. People visit this place with their families and friends to enjoy their weekends and have some fun under the stars in a pure environment.
How to Reach Nanemachi Waterfall
1. By Road
There are various local buses that can take you to Mahad from Mumbai, and from there, you can go to the base village via any private vehicle. If you are planning on going to the place by private vehicle, then via NH 48 and NH 66, you can reach the waterfall from Pune and Mumbai, respectively.
2. By Train
If you want to travel to the place by train, then book a ticket to Mumbai or Pune, and then from the railway station, you can get various ways of reaching the waterfall.
3. By Air
Air travel saves time and is the best way to travel if you need to cover a long distance in a short amount of time. All you can do is book a flight to Mumbai or Pune, and from outside the airport, you can get a cab that will take you straight to your destination.
Nearby Tourist Attractions to Nanemachi Waterfall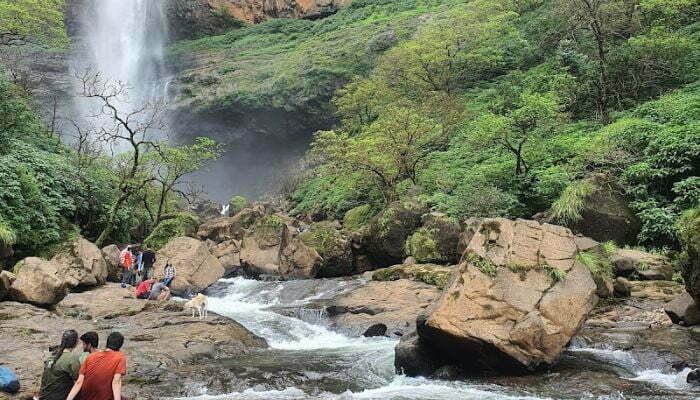 1. Tamhini Waterfall
The Tamhini Ghat mountainous passage's splendor can only be summed up in one word: mesmerizing. The region still has beautiful lakes and lush vegetation, making it one of the top weekend destinations for those who enjoy the outdoors.
2. Bhaje Waterfall
The Bhaje Waterfalls, another must-see attraction in the area, complement the untamed grandeur of the nearby Bhaje Caves. It is located next to the final of these 22 rock-cut caverns. The waterfall forms a little pond at the bottom if you manage to arrive during or just after the rainy season.
3. Pune
Pune is recognized as India's most significant automotive and industrial powerhouse and the country's second-largest IT center. Pune is sometimes referred to as the "Oxford of the East" since it is home to several premier university establishments.
4. Thokarwadi Dam
The Thokarwadi Dam route is regarded as the best route for a long drive close to Pune. Thokarwadi Dam is 66 kilometers away from Pune, and it will take you a little under four hours to go there and back.
During those four hours, however, you will have the opportunity to see a number of breathtaking cascades that rush down and gushes a kiss of water onto the ground.
Best Time to Visit Nanemachi Waterfall
The peak period for visiting this place is the monsoon season, which is from July to August. During this period, the waterfall looks most beautiful. The water at the falls will be at its peak, and the weather is the cherry on top.
During this season, the trekking path gets slippery, so it is advised for everyone to wear shoes with good grip to avoid any accidents.
Travel Tips
Public transportation is not recommended because the waterfall is not well connected to the other nearby settlements.
It is advised to use suitable hiking shoes because the route might get slick during the monsoon.
There is a very strong likelihood that it will rain hard during the monsoon. Therefore, to prevent them from becoming wet, we advise doubly packing your important phones in plastic bags.
Keep a first-aid kit with you in case you get injured while traveling.
Conclusion – Nanemachi Waterfall
In Maharashtra's Raigad Region, close to Mahad, sits this magnificent waterfall. The Nanemachi Waterfall is located in the heart of a forest. One of Maharashtra's most stunning waterfalls is this one. The waterfall, a 400-foot-tall hidden beauty of the Konkan area, will leave you feeling at one with the environment. One must visit this place while traveling to the nearby cities and explore it.
Explore Some Hidden Waterfalls
FAQs on Nanemachi Waterfall
1. Where is Nanemachi Waterfall located?
Nanemachi waterfall is located at a distance of 26 km from Mahad, in the village of Gugulshi which lies in the Pune district of Maharashtra.
2. What is the best time for visiting Nanemachi Waterfall?
Monsoon Season is the perfect time to explore Nanemachi Waterfall. At this time, you can enjoy the most stunning views of nature.
3. What is the nearest town to the Nanemachi Waterfall?
Mahad is the nearest town to the Nanemachi Waterfall which is 26 km away from the location of the waterfall.
4. What are the tourist attractions around the Nanemachi Waterfall?
Tamhini Waterfall, Bhaje Waterfall, Pune, and Thokarwadi Dam are some of the very popular tourist attractions around the Nanemachi Waterfall.
5. How far is Nanemachi Waterfall from Mumbai?
Nanemachi Waterfall is nearly 200 km away from Mumbai, the state capital of Maharashtra.
Distance from Major Cities / Towns
| | |
| --- | --- |
| Birwadi | 14 km |
| Dharwali | 23 km |
| Mahad | 26 km |
| Dapoli | 80 km |
| Pune | 127 km |
| Satara | 130 km |
| Lavasa | 170 km |
| Mumbai | 186 km |
Watch the Video of the Nanemachi Waterfall
Map of Nanemachi Waterfall